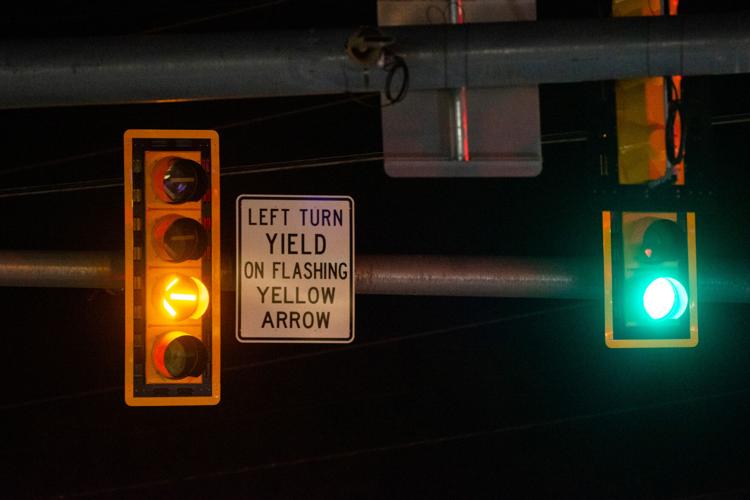 HERMITAGE — Police are investigating a car accident that injured two people and damaged two vehicles Thursday evening on state Route 18.
Confusion over a new style of left-turn traffic signal might have contributed to the accident, said Hermitage police Chief Eric Jewell.
Hermitage police reported about 8:10 p.m. Thursday to the intersection of South Hermitage Road and Longview Road, where a vehicle driven by Taylor Vroman, 19, of Titusville, hit a vehicle driven by Thomas Stafford, 71, of Sharon, Jewell said.
Jewell said Stafford was traveling north on South Hermitage Road in the left turning lane, preparing to turn westward onto Longview Road. Vroman's vehicle was traveling south on South Hermitage Road when Stafford turned left across Vroman's lane instead of yielding, causing Vroman to hit Stafford's vehicle.
Stafford was taken by ambulance to a local hospital for trauma treatment, then later transferred to a Pittsburgh-area hospital, though Jewell said he was unsure of the extent of Stafford's injuries. Vroman complained of knee pain, police said, but refused treatment by EMS, while both vehicles were disabled and towed from the scene.
The accident is still under investigation and and police had not issued any citations as of Friday. Jewell said Stafford recognized that the turning signal was on the flashing yellow arrow at the time of the accident but did not know that the blinking yellow arrow meant to yield for oncoming traffic before turning.
"When making any left turn, you have to yield to the right-of-way unless you have a steady green arrow," Jewell said.
The turn signals at the intersection of South Hermitage Road and Longview Road were one of several throughout Hermitage that were installed beginning in early 2019 by the Pennsylvania Department of Transportation.
Traditional left-turn signals feature what highway engineers call a "doghouse" design — which has a single red light above four lights in two side-by-side rows for a yellow arrow above a green arrow, and a solid yellow light and a solid green light. The new designs have signals above the left-turn lane with a flashing yellow arrow, and green and red arrows.
While the solid green arrow gives those turning the right-of-way, the flashing yellow arrow means drivers may turn left but must yield to oncoming traffic and the solid yellow arrow means drivers must be prepared to stop. A solid red arrow requires drivers to stop.
While the new signals may have been a contributing factor in the accident, Jewell said they have not caused more car accidents, compared to accidents in traditional intersections from drivers turning left without yielding to traffic.
"When you have a busy intersection and there's lots of traffic, and lots to look at, you should always follow the rules of the road for your lane," Jewell said.
Aside from intersections, other major causes of non-DUI-related accidents that are include running red lights and stop signs, vehicles turning left, pulling out of private drives, and driving at excessive speeds, Jewell said.
Like David L. Dye on Facebook or email him at ddye@sharonherald.com.