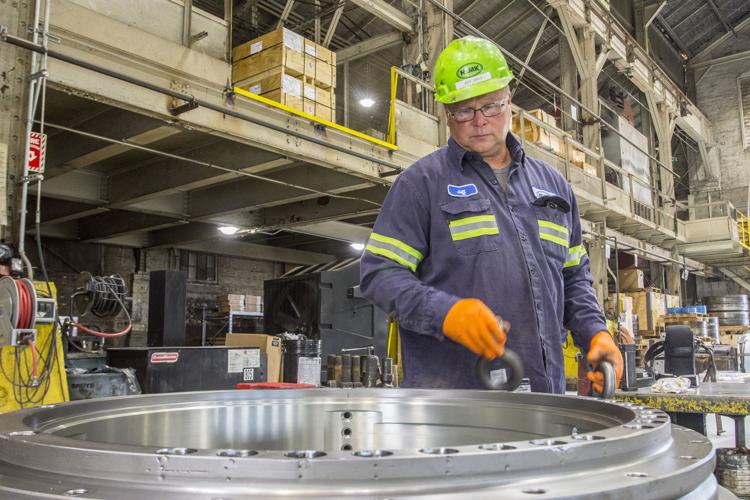 MERCER COUNTY – Technology has changed the workforce over the years. But for many workers the needs are still the same.
"It's still about wages and benefits,'' said Dominic Vadala, a retired Wheatland Tube Co. worker who also served as a leader for the United Steelworkers.
Even through the 1990s, the USW was the unquestioned king of unions in the region. But that dominance has waned over the decades.
The USW likely still has more union members than any other union in Mercer County, Vadala said. But a combination of unfair imports and technology has reduced the ranks.
"We have nowhere near the influence we use to have,'' he said. "But it isn't just us. Other unions probably have lost members, too.''
To get the message across the political landscape, union leaders are directly getting involved in politics – such as Andrew Harkulich. He began working at Wheatland Tube in 1998, more than 30 years after Vadala.
In addition to being financial secretary for USW Local 1660, Harkulich is president of the Mercer County Labor Council, which represents union members in the county. And for extra measure he also is chairman of the Northwest Pennsylvania Area Labor Federation, an organization representing 52,000 union members in the greater region.
"I keep busy,'' he said with a hearty laugh.
He started out small in the union world by publishing a mini newspaper – "Union News.'' The paper, given to area union workers, hung around for a number of years.
"If something major was coming down the pike for workers, I'd put it in the paper,'' he said.
The union posts he has now haven't been gained on a whim, he said. There was a lot of studying the art and science of creating a labor contract and other issues.
"I got educated,'' Harkulich said. "I got to go to some college classes.''
Through all of this he has seen how issues, such as tariffs, have hit workers outside of the plant shop.
"People don't realize an issue is an issue until it affects them,'' he said. Tariffs, he acknowledged, can cut both ways in helping and hurting American businesses.
"Tariffs can be good, but they can go away in a day,'' Harkulich said. "We need legislation – something that will create fairness.''
As an example, he said China needs to open up its market for American goods.
"As much as they bring into the U.S., we're only allowed to bring in so much (American products) to them,'' he said. "They have no EPA, no nothing like that. They don't have to jump through the hoops like we do over there.''
There a lot of changes in the working environment for which unions never got the credit they deserve, Vadala said. Unions should be partly credited for supporting women in the workforce.
"When I started working in 1966, there weren't very many women at that time'' Vadala said. "But very shortly after that – it changed. We had women who came in and work side-by-side with us for the same wages.''
What's more, creating a labor contract has also benefitted women, Vadala added.
"It reduces discrimination,'' he said. "You have a contract where the company and union have to follow that contract. Everybody should be created fairly.''