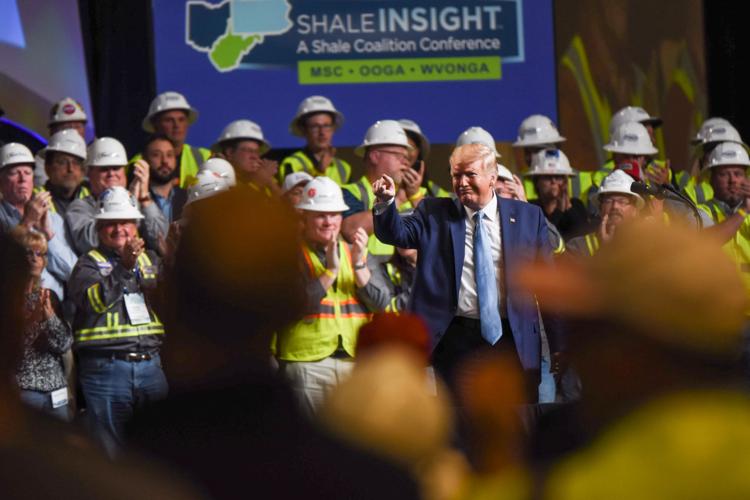 PITTSBURGH – Speaking to a mixed crowd of natural gas industry representatives and rank-and-file western Pennsylvania supporters on Wednesday, President Donald Trump said he is bringing an end to "the war on American energy."
He made the comment during the annual Shale Insight convention inside Pittsburgh's David L. Lawrence Convention Center.
Trump, a Republican, recalled when he addressed the same conference during his 2016 campaign. Since then, Trump's administration has issued permits for the Keystone XL Pipeline and Dakota Access Pipeline, rolled back the Clean Power Plan, opposed participation in the Paris Agreement, repealed the Stream Protection Rule, revoked Waters of the United States, and opened offshore federal lands and the Arctic National Wildlife Refuge for oil and gas exploration.
"Today, I'm proud to declare that I delivered on every single promise I made to this conference three years ago and much, much more," Trump said.
He called 2016 a time when "American energy was under relentless assault from the previous administration."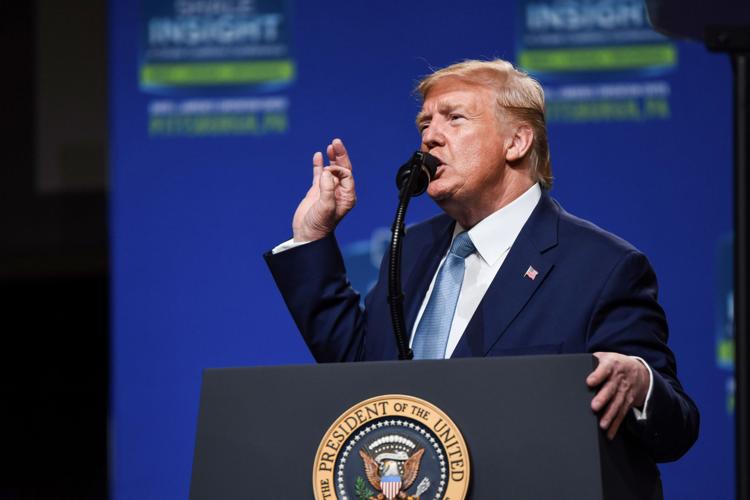 Trump continued: "Federal regulations and bureaucrats were working around the clock to shut down vital infrastructure projects, bankrupt producers and keep America's vast energies and treasures buried deep under ground. They didn't want to let you go get them. So, good for the American people in so many ways. I promised that as president I'd unleash American energy like never before because our natural resources do not belong to the government, they belong to the people of this country."
He focused on several specific issues, including the 2015 Paris Agreement – a plan, adopted by the United Nations Framework Convention on Climate Change, to deal with greenhouse gas emissions – that has the support of more than 180 nations. President Barack Obama, a Democrat, backed the accord.
Trump opposed what he considered to be a "terrible, one-sided" plan. The administration can submit notice on Nov. 4 to begin the one-year clock to formally withdraw from the climate pact.
"What we won't do is punish the American people, while enriching foreign polluters," Trump said. "Because, I can say it, right now, and I'm proud to say it, it's called 'America first' – finally. My job is to represent the people of Pittsburgh, not the people of Paris."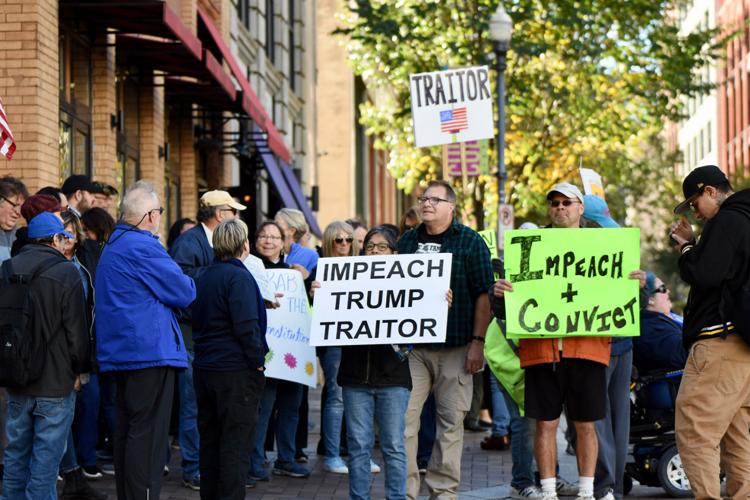 The president focused almost exclusively on energy, jobs and infrastructure during his hourlong remarks – not going into current issues, such as the ongoing impeachment investigation against him or Turkey's invasion of Syria.
But he did criticize Democrats on economic and energy policies, which he claims will hurt growth if enacted.
"They're viscous and they stick together, but they're lousy politicians," Trump said.
He also touted the current state of the national economy, which has had an unemployment rate of 4 percent or less since early-2018.
"We set off an economic boom of truly historic proportions, bringing prosperity back to cities and to towns all across America," Trump said. "Not only energy. Energy was just the first step in so many other ways. But, without energy, it all doesn't happen."
Pennsylvania debates
The Shale Insight conference brought together representatives from businesses and organizations working to promote natural gas development in Pennsylvania, Ohio and West Virginia.
"There is a lot of opportunity for Shale in this basin, for manufacturing growth, to how we use natural gas to help drive economic growth," John Sutter, a Marcellus Shale Coalition spokesman, said. "That's a large part of the downstream use. Appalachia and Appalachian Basin has some of the largest resources in this country of natural gas. That represents a long-term development opportunity. A lot of what we've heard here is how do we continue to develop those resources for the long haul."
U.S. Sen. Pat Toomey, a Republican, said Trump's appearance at the event put a "spotlight on the tremendous success story that natural gas has been for Pennsylvania and for America" during a telephone interview with The Tribune-Democrat.
Toomey, who could not attend the conference, said, in his opinion, the federal government should work to "expedite permitting for pipelines, for moving the gas."
"We still have a case where New York prevents us from shipping our natural gas to New England, where there's tremendous demand," Toomey said. "Recently, in New England, they had to bring in a Russian tanker of liquid natural gas at a much, much higher price than what we could sell Pennsylvania natural gas. But, because of New York's ridiculous and irrational policy, we can't get it to New England. That's just crazy. We should be opening up American markets for the product that we produce in Pennsylvania."
Groups that oppose the fracking process used to extract gas from Marcellus Shale and the development of energy facilities, such as the new Shell petrochemical cracker plant in Beaver County, issued statements regarding Trump's visit.
"From cradle to grave, the petrochemical industry threatens our health, environment and quality of life. The Shell cracker plant is a perfect example," PennEnvironment Research & Policy Center's field organizer Zachary Barber said in a press release. "This facility will pump out hundreds of tons of cancer-causing chemicals and worsen climate change – all to produce plastic that is both unnecessary and will clog our oceans for thousands of years.
"Pittsburgh has spent the last two decades clawing out of the pollution that's choked our air, tainted our water and stained our city's reputation. Now that we've finally made real headway, and neighborhoods and downtown are revitalizing, we can't go back to the dangerous ways that held us back."
'Battleground state'
Trump's visit had a political element as part of his 2020 re-election campaign.
In 2016, Trump became the first Republican to carry Pennsylvania since 1988 – thanks, in part, to rural, small-town and blue-collar support. As an example of the backing, Trump carried Cambria, Somerset and Bedford counties with 67 percent, 75.5 percent and 82.7 percent of the vote, respectively.
The convention center was filled with Trump supporters – with signs and red "Make America Great Again" hats – who entered after the conference workshops and presentations finished.
"The president really needs to rally the troops in Pennsylvania," Trevor Taylor, an Adams County resident, said. "I think his continuing visits here to Pennsylvania is a strong indication that he knows this is going to be a battleground state, that he is going to put in the resources and time necessary, press the flesh, do whatever needs to be done. I think he's doing a very good job in Pennsylvania. He really needs to continue to use this as his touchstone, his 'keystone' so to speak, and I think he'll be just fine."
Taylor added: "I think President Trump is doing a wonderful job. I think he's doing things that presidents have not done previously. I think he's a man who is really motivated, really putting the country's interest in front. Very much a pro-America agenda. Honestly, I think he's doing a wonderful job."
Erin McClelland, a Democrat who twice ran for Congress in the former 12th Congressional District that included Johnstown, said her party "needs to acknowledge what actually happened in 2016, and I don't even think that's happened yet."
McClelland recently formed a political action committee called Working Pennsylvania.
During a telephone interview, she said that "2016 was not an election. That was a reckoning. That was looking at nearly 50 years of failed trade policies and economic oppression growing from an increasing trade deficit that started in 1971."
McClelland added: "In 2016, Chuck Schumer (current Minority Leader of the United States Senate) stood up in front of the world and said for every working-class Democrat we lose in western Pennsylvania, we'll gain two suburban Republicans in Philadelphia. My party chose to abandon working-class Democrats in western PA, so they could pander to Republicans in suburban Philadelphia. That didn't work. They're already starting to go that way again. If we make that mistake again, we will lose."
Gas industry lauded
U.S. Rep. John Joyce, R-Blair County, 13th Congressional District, flew with Trump aboard Air Force One from Washington, D.C. to Pittsburgh.
Prior to the flight, Joyce offered his support for the president on several issues, including natural gas, during a telephone interview.
"This is a tremendous day, realizing how the natural gas industry has facilitated so many good-paying jobs in Pennsylvania," Joyce said. "It has allowed for us to have a low price of natural gas in our homes, to heat and to cook with. This is energy independence for not only Pennsylvania, but for our whole country. The president recognizes that."
Joyce wants to see the industry "expand without over-regulation."
When discussing other issues, Joyce called the Democratic-led U.S. House of Representatives impeachment investigation of Trump "a sham."
"They have not even given me, as a member of Congress, the ability to read these testimonies," Joyce said.
Trump also recently pulled United States troops out of north-eastern Syria, which was followed by a military invasion by Turkey against Kurds.
"I voted – with the president – on Syria," Joyce said. "The safe zone has been created. He's very proud of that. There's a cease fire that's holding. I want to see the continued peace through strength, and that's what the president is doing. He is making us stronger through sanctions and through his ability to negotiate and his ability to do this without any aggressive measures at this point in time.
"The president has done what he said he was going to do. I'm proud of him for that. I'm proud of him for keeping Americans safe. I'm proud that the Kurds are safe and that the captured ISIS prisoners are still secure."
CNHI News Service