NOTE: Updated with photo of vandalism of U.S. Rep. Mike Kelly's office and statement from state Rep. Tim Bonner.
Wednesday's attack on the U.S. Capitol Building will cast a shadow on President Donald Trump's term in office, said a professor at Grove City College.
Dr. Michael Coulter, chairman of the college's political science department, called the incident, which disrupted the final ratification of President-elect Joe Biden's electoral vote victory, "dark and lamentable."
"This event will overshadow other things," he said Thursday.
Officials are calling for Trump's impeachment, which is a complicated process, especially since Trump's presidency ends Jan. 20, said Coulter, who teaches political science and humanities courses at the private, Christian college known for its conservative ties.
It's not just Democrats who have pushing the idea around, he said.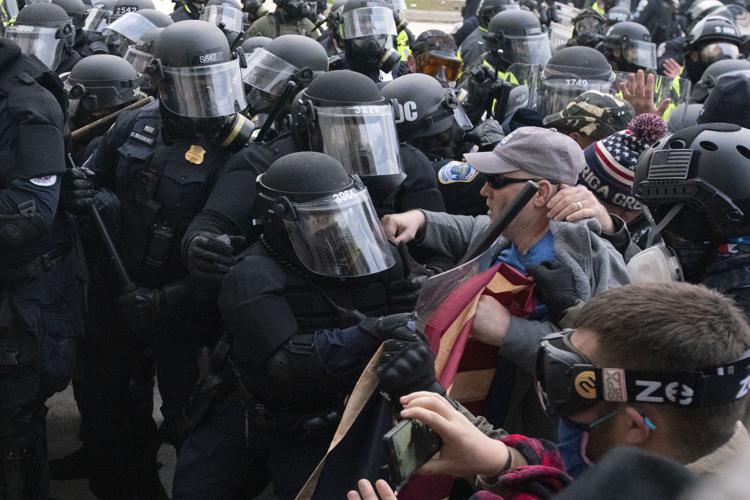 Transportation Secretary Elaine Chao resigned Thursday because of the incident Wednesday, according to Associated Press. Chao, who is married to Republican Senate Majority Leader Mitch McConnell, had been part of the Trump administration almost from his first day in office,
U.S. Sen. Bob Casey, D-Pa., called for the cabinet to invoke the 25th Amendment to remove Trump, although it's unclear if that can succeed, especially with Chao's resignation.
Under Section 4 of the 25th Amendment, adopted in 1967, the majority of cabinet officers can file an order to remove the president from office, which would elevate Vice President Mike Pence to acting president. But with Chao's seat vacant and three cabinet members serving in an acting capacity, it is unclear how a 25th Amendment action would proceed.
Even though an impeachment or removal action would be largely symbolic, with fewer than two weeks remaining in Trump's term in office, there is still "some merit" to the idea, Coulter said, because Trump should face some kind of repercussions for his role in Wednesday's riot.
Coulter said he had been watching the electoral vote ratification on C-SPAN when leaders called for a recess. A recess during this normally orderly process is unusual, and he soon learned that the Capitol building was being attacked by rioters.
He believes that the attack was preventable and that Trump should have asked people to leave and not directly confront Congress members.
"Trump could've stopped it with stronger statements," Coulter said.
Ultimately, though, he said the riot will damage Trump and his place in history, and his supporters.
"It is tragic that people died and got hurt, and many people will associate this event with the Trump presidency and Trump supporters," he said. "That will harm the Trump legacy. That will harm the Republican party."
Trump has been banned temporarily from Twitter and Facebook, though he still has a lot of ways, like arranging a press conference at the White House, to communicate.
Social media has been a hotbed of theories and rumors, like some people claiming that those who led the attack were not actually Trump supporters but rather Antifa members in disguise.
The idea that the rioters were planted and this was all a "false flag" operation is strange and unbelievable, Coulter said.
----
State Rep. Bonner responds
State Rep. Tim Bonner, R-8, Pine Township, issued the following statement in response to Wednesday's attack on the U.S. Capitol:
"The United States Congress met on Jan 6 to certify the votes of the Electoral College for president and vice president in accord with the United States Constitution and to receive any objections from the members of Congress from the members of Congress to the lawful right of any state delegation to cast such a vote. This process of objecting to the Electoral College delegates has been a long-established right under law and has been used on multiple occasions by legislators to challenge the right of Electoral College delegates to vote.
"Tragically, this lawful process of delegate certification was interrupted by a riotous mob intent on disrupting the rule of law as they committed numerous criminal acts as part of their unlawful and violent protest of the election process. In a nation whose foundation is built on the rule of law, this action is unacceptable and cannot go unpunished.
"We have been through very troubling times this past year with a pandemic, riots in the streets and a heated and divisive presidential election affected by these crises. At this time, our laws have rejected the claims of President Trump and have affirmed the election of Joseph Biden as our next president. As a nation, we must acknowledge this decision reached in accord with law in order to move forward as a nation. Individuals will pass through our lives, but this nation must endure and the only way we will endure is to remain united in the principle that our ultimate loyalty, allegiance and support is to our rule of law and not to any one individual. Our country needs your support and your prayers that we will continue to be a nation of laws, a nation where no one is above the law, a nation that respects the law and a nation that remains a beacon of freedom to the world and to ourselves. May God Bless America."
----
Kelly objects to Pa. electoral votes
U.S. Rep. Mike Kelly, R-16, Butler, was among a group of Trump supporters who formally objected to Pennsylvania's electoral votes, late Wednesday night when Congress reconvened after the riot. His Western Pennsylvania district includes Mercer County.
During Wednesday's electoral vote ratification session, Congress members had objected to results in Arizona when security evacuated both houses because of the attack. Kelly had said Wednesday morning that Republicans in the Senate and House would likely file objections in Arizona, Georgia and Pennsylvania and might make additional filings in Michigan, Nevada and Wisconsin.
Kelly, who spoke positively Wednesday morning of the Trump supporters set to march in Washington, D.C., and called them "absolutely phenomenal," condemned the attack in a statement early Thursday morning.
"What happened at the United States Capitol yesterday was wrong and does not reflect who we are as Americans," he said. "In this country we resolve our disputes peacefully in legislative bodies and courts under the rule of law. Thank you to the Capitol Police and all other law enforcement officers who bravely secured the Capitol and kept us safe."
However, Kelly didn't back down from his criticism of the way Pennsylvania conducted the presidential election or his decision to file an objection to the state's electoral votes. He had launched an unsuccessful lawsuit in an attempt to disqualify more than 2.5 million mail-in votes.
When order was restored in Congress following the attack, senators backed off from many of their objections. House members attempted to file objections to the electoral votes in Michigan and Nevada, but did not get a companion objection from a senator and both died, before Pennsylvania came up.
Several Pennsylvania Republicans, including Kelly, signed onto an objection, and U.S. Sen. Josh Hawley, R-Mo., objected from the Senate.
Some representatives and senators changed their minds about objecting to electoral votes when Congress reconvened after the attack. It did not, however, dissuade Kelly.
"Notwithstanding these events, I still objected to Pennsylvania's slate of electors," he said in the statement. "The tragic attack on the U.S. Capitol does not change the fact that Act 77's no excuse mail-in ballot system violates the Pennsylvania Constitution and Governor Wolf and Secretary Boockvar disregarded the law in multiple ways leading up to the election."
---
County commissioners urge unity
Mercer County Commissioners Tim McGonigle, Scott Boyd and Matt McConnell stood on common ground — that the county needs to come together — Thursday at their meeting.
"Yesterday was one of the saddest days in American history," said McGonigle, a Democrat. "We've got to put this election behind us. Everybody needs to come together and realize we're all in the same shoes."
Boyd, a Republican, said violence and property destruction, regardless of the cause, is never appropriate, and drew a parallel between Wednesday's riot and racial equality protests last year in the wake of George Floyd's killing May 25 by a former Minneapolis police officer.
"Whether you're storming the capitol or whether you're destroying business and property like this summer during the protests," Boyd said. "This has got to come to an end."
Boyd said people are being manipulated by social media, the news media and politicians.
"If we can't control ourselves, we need to shut it off because we need to bring our country back together," Boyd said. "We should be getting our priorities in order rather than being distracted by different entities."
McConnell, the Republican chairman of the commissioners, condemned the violence.
"I find this unacceptable to resort to that," McConnell said. "The election may not have gone the way you wanted ... this kind of action is never warranted."
Longietti weighs in
Although Mark Longietti is a state representative, watching rioters breech the nation's Capitol Building where Congress resides is a place he once worked.
"I was just shocked,'' Longietti said of watching videos of the riot.
Serving as an intern in the halls of Congress in 1984, Longietti D-7th District, Hermitage, said watching rioters storm the capitol on Wednesday was surreal.
"I've personally been to those places where they were at,'' he said.
Longietti, a Democrat, served with the help of U.S. Rep.Tom Ridge, a Republican from Erie, who at the time represented northwestern Pennsylvania.
What hit Longietti the most was that rioters believed they had a right to occupy the legislative chambers.
"Just because you pay taxes doesn't mean you have a right to that space,'' he said. "You can't say, 'I pay taxes so I have the right to take a police car and go for a ride.'''
A strong memory for him was a gathering held for all capitol interns on the House floor. But he also walked around the Capitol's outdoor open space.
"I know those grounds well,'' Longietti said. "It was shocking to see that they (the rioters) were able to break into the Capitol.''
Security around the Capitol was boosted after the Sept. 11, 2001, terrorist attack on the Pentagon. There's no doubt Wednesday's riot means even tighter security will follow – and that means more restricted access.
"These are our institutions of government, they are so important for us, for school children and adults to be able to go to these places,'' Longietti said. "We're proud of our democracy. I certainly hope people will still be able to visit the Capitol.''
Other community viewpoints
About an hour into the attack and siege of the Capitol Building, Gina Girt said she was so appalled that she had to get away from the news and go to Buhl Park in Hermitage.
"I didn't think that kind of thing would actually happen, that people would be so angry over a person ruling a country," she said. "I think how often (Trump is) going on about how unfair the election was is confusing because everything seems to have been done correctly and rechecked and he's still not in favor of the results. It feels childish and shameful."
While she doesn't think any attempt to remove Trump will prevail, Girt is hopeful that he won't do any more damage.
"I don't think he's going to do anything for the next two weeks but sit and watch the chaos that he has incited. He's welcomed these people to do this and that's scary."
Marc Bellucci, of Hermitage, said the attack was an inappropriate way for people to express their opinions.
He contrasted Trump's action on Twitter with Biden's statements Wednesday afternoon and said Trump should have acted sooner to prevent the attack and more decisively to end it.
"I think it kind of shows the character of the current president. In his delay to action and him not doing what should be done. It doesn't take someone in politics to know what to do. I think Trump should've known to employ force or to make a public statement to denounce what these people are doing."
HERALD STAFF Writers Monica Pryts, Eric Poole, Melissa Klaric and Michael Roknick, and Photographer Tanner Mondok contributed to this article.