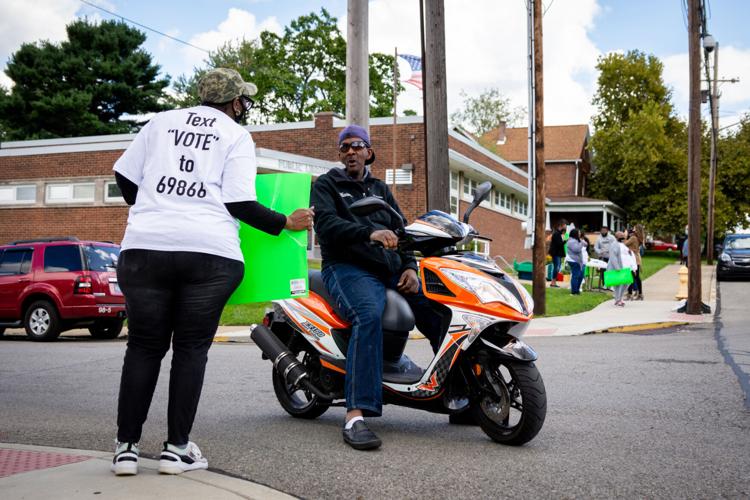 FARRELL — Waving a fluorescent green sign emblazoned with the words, "VOTE: It's your right. Use it or lose it," Teresa Hill gave an impromptu civics lesson Friday from a sidewalk outside the Stey-Nevant Public Library.
"Voting is a right!" she shouted through a mask, hoping that anyone passing by might hear. "Driving is a privilege! Credit is a privilege! Voting is a right!"
Shenango Valley Urban League aims to reclaim the vote with a voter registration drive and march
Hill, program coordinator for the Shenango Valley Urban League, joined other Urban League staff Friday for "Reclaim Your Vote: Protest to the Polls," a voter drive to mark the first-ever National Black Voter Registration Day. 
The event is a cooperative effort of Black Entertainment Television and the National Urban League.
Dr. Erin Houston, president and CEO of the Shenango Valley Urban League, said National Black Voter Registration Day reflects an effort to mobilize Black voices ahead of the Nov. 3 presidential election.
"It's about making sure that you don't lose your voice," she said. "I think that everyone knows the negative impacts that not voting can have."
The voter registration drive began at noon outside the library. Afterward, the Urban League staffers led a march about six blocks to Veterans Square.
Along with Houston and Hill, Urban League staff members Corwin Somerset, education director; Brieauna Morrison, housing and life readiness advocate; April Brown, housing director; and administrative assistant Melinda Boatner staffed a table to accept voter registration applications.
But they found quickly that people — at least those passing by the Urban League display Friday — were already aware of the importance of using their voices in the upcoming election.
Every time a motorist stopped for the red light at Roemer Boulevard and Beechwood Avenue, an Urban League staff member asked if those in the car were registered to vote. With only one exception, all said they were.
And that woman said she was planning to file her registration.
Boatner said that might not have been a surprise. She said there is a lot of energy within the Black community for the upcoming election.
"Now more than I've seen in my entire life," she said. "We need to turn this around. This country is in extreme turmoil and this needs to change."
Houston said she was encouraged that the Urban League display wasn't deluged with people applying for voter registration, because it meant that people going past the library had already registered and planned to vote.
She agreed with Boatner that there is an abundance of enthusiasm for this election.
"I do see a lot of energy behind getting people voting this year," Houston said. "I think everyone knows the consequences of not voting."
VIDEO: Shenango Valley Urban League President and CEO Dr. Erin Houston talks about the urban league's voter registration and march in Farrell.
Follow Eric Poole on Facebook and Twitter @HeraldEricPoole. Email him at epoole@sharonherald.com