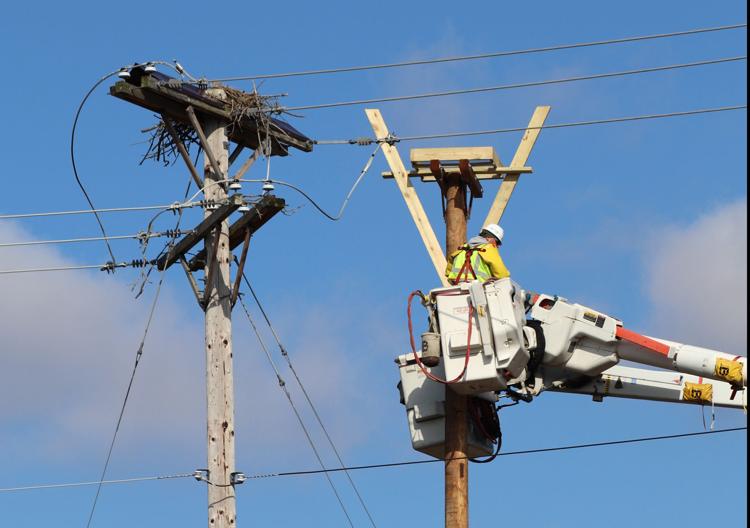 PYMATUNING TOWNSHIP – FirstEnergy has embarked on a home construction project that's for the birds – literally.
Mirroring the rest of the nation, the local osprey population is enjoying a comeback. A problem with some of these large, majestic birds is they've decided to build their nests atop utility poles carrying electric wires.
Over the years the birds have caused electrical outages because of their nests. And in the worst cases, birds have died from electrocution. FirstEnergy owns Penn Power Co., which serves the Mercer County area.
"In one case, a nest caught fire,'' said Sarah Sargent, executive director and founder of the Erie Bird Observatory.
Sargent was on hand Friday morning when construction workers for FirstEnergy erected a utility pole in Pymatuning Township on Birchwood Drive near Route 18. Atop the pole are V-shaped arms beneath an open wooden box – which for ospreys is like a "homes available'' sign in a housing development.
There's also strategy involved here. The pole is just a few feet from another utility pole with live electric wires that has an abandoned osprey nest. The new pole doesn't have any electrical wires.
The nest is abandoned for now because osprey are migratory birds.
"They can go down as far south as Brazil and other parts of South America,'' Sargent said. Ospreys' diet is exclusively fish.
"They're very picky eaters,'' "They won't even eat dead fish.''
FirstEnergy removed the nest after first notifying the state, as required. Osprey are protected under federal and state wildlife laws.
"We've experienced a significant spike in the osprey population over recent years, and we anticipate this year will be no different since the birds typically return to the same nesting sites as the year before,'' said Amy Ruszala, a FirstEnergy environmental scientist.
As chairman of the Joint Legislative Conservation Committee, state Rep. Parke Wentling, R-17th District, Hempfield Township, said he's been working on osprey safety for years.
"I am beyond thrilled that our pioneering efforts to protect this once endangered raptor continue to be successful and that our partnership is growing not only through the region, but all throughout western Pennsylvania and statewide,'' Wentling said. "Building these nesting boxes is beneficial not only to ospreys who will be protected from electrocution from power lines, but to residents in the community who would otherwise put themselves at risk for frequent episodes of disruptive power outages.''
FirstEnergy installed a similar nest-inviting pole Friday on East Lake Road in Crawford County, just north of Jamestown.
The Route 18 causeway on the Shenango River Lake has been a particular problem area in the past.
Just like humans, osprey love waterfront homes. To thwart nest building, FirstEnergy redesigned the tops of poles.
Originally, the poles had two parallel wood arms, which creates a great foundation for osprey nests. They were replaced with a slim, single arm – not a good location nest construction. 
FirstEnergy put the total cost for erecting the poles at $5,000. Funds came from the FirstEnergy Foundation – the company's non-profit charitable organization. The donation was made to Erie Bird Observatory, which is overseeing the project.
Osprey probably have begun their flight to the area, Sargent said.
"They should be returning in April, and maybe even in March,'' she said.