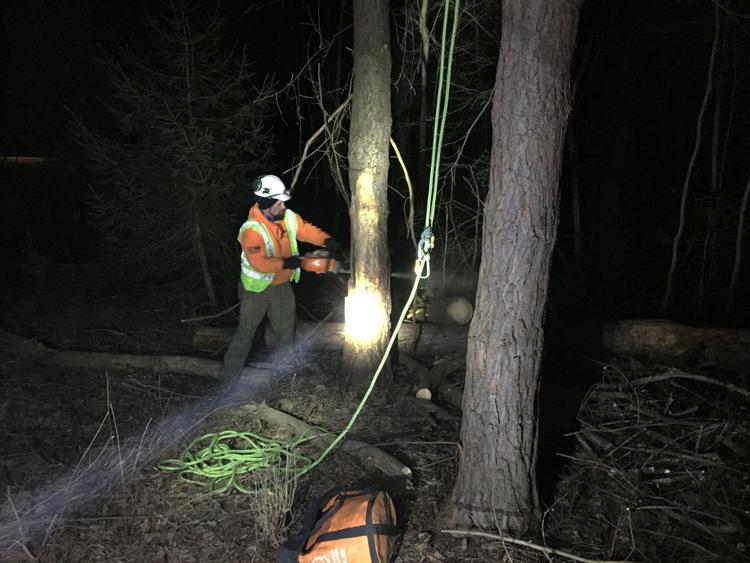 MERCER COUNTY – Just as Penn Power's Mercer County customers were starting to see light at the end of their outage tunnel, thousands were plunged into darkness for a couple of hours Tuesday evening.
Like the rest of the region, Mercer County residents were hammered by a fierce wind storm on Sunday and much of Monday that left thousands without electricity.
By late Tuesday afternoon, Penn Power said it was down to about 150 customers in the county that still were without power. But around 6:30 p.m. more than 2,000 residents found themselves without electricity.
This new outage was due to a main power line failing, said Chris Eck, a FirstEnergy spokesman. Akron-based FirstEnergy owns Penn Power.
Power to those customers was restored shortly after 8:30 p.m., Eck said. He didn't know the location of the power line, where the affected customers lived or what caused the line to fail.
Most of Penn Power's 30,000 customers who lost electricity during the weekend wind storm had their power restored by Tuesday.
But a few of those affected customers won't be able to turn their lights on until late Thursday afternoon, Eck said.
"We think most of the remaining outages will be restored by 5 p.m. Thursday,'' Eck said. "But there may be some exceptions.''
Penn Power serves 52,000 Mercer County customers. The utility's crews worked around the clock Monday and Tuesday to restore power to local customers left in the dark.
But earlier on Tuesday, new outages popped up, and those ones were not unexpected.
"Those winds really weakened trees and tree limbs that are eventually going to fall,'' Eck said. "And unfortunately one of the places they're going to fall is on our lines.''
FirstEnergy's online outage map showed outages almost everywhere in the Shenango Valley, Mercer, Greenville, Jamestown and townships throughout Mercer County.
"There are just so many damaged areas,'' Eck said. "And each spot has to be visited and assessed.''
There were no major hiccups among critical care services, such as hospitals and nursing homes, said Frank Jannetti, director of Mercer County Department of Public Safety. Local police, and particularly fire departments, helped clear debris off roads and aided power crews where they could, he added.
"It's all in a day's work for Mercer County first responders,'' he said.
At the height of the storm early Monday morning, the utility had 1,800 customers without power in Mercer County, according to FirstEnergy's website.
At 4 p.m. Tuesday, the utility said it whittled down the number of outages to around 150. Most of those outages were individuals or small clumps of homes, Eck said.
Penn Power serves 160,000 customers in Mercer and Lawrence counties, and sections of Allegheny, Beaver, Butler and Crawford counties. Of that figure, more than 30,000 customers found themselves without power because of the storm, FirstEnergy said.
All 10 of FirstEnergy's utilities, covering parts of Ohio, Pennsylvania, West Virginia, Maryland, New York and New Jersey, were affected by the wind storm. Almost 940,000 customers lost service system-wide, and about 50,000 remained without service as of 2 p.m. Tuesday.