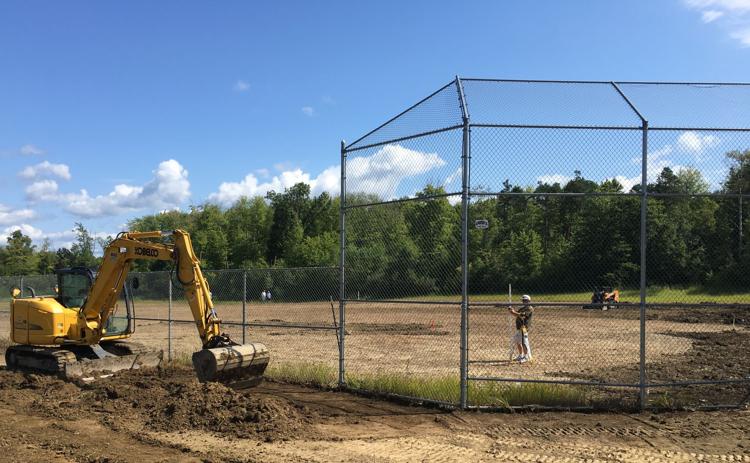 BROOKFIELD –When it comes to improving the township's assets, Trustee Ron Haun isn't afraid to get dirty.
Haun has been among an army of volunteers working to improve the baseball field at Brookfield Community Park.
"This project has been a long time coming,'' Haun said.
The volunteers have been working on the playing venue, smoothing it out and creating a good infield that can handle sand. 
The baseball park has been designed to handle the needs for younger players, with 60 feet between bases, the typical distance used by teams of 9- and 10-year-old players.
For perspective, professional, college and high school baseball teams play on a field with bases 90 feet apart.
"But we'll have the flexibility to go up to 70 feet,'' said David DeJoy, another volunteer who coaches softball and baseball. 
Tim Mulligan, owner of MCM Management in Brookfield also donated his time and some of his equipment for the project.
"A lot of the work has already been done here over the years,'' Mulligan said. "Drainage pipes have been installed to keep the field drier which makes it easier to maintain. What we're doing now is fine-tuning.''
Brookfield manages the property, which was donated by a Brookfield resident, Haun said.
"The land was donated with the provision the land be used to benefit the youth – like baseball,'' he said.
Matt O'Dell, a member of Brookfield's road department, also volunteered his time. This week, he was operating a large backhoe.
"We're getting it done,'' O'Dell said.
More work at the baseball field awaits.
"We want to add things like dugouts and better fencing,''  Haun said.
He said the project has caught the attention of Brookfeld residents.
"I've heard a lot of positive comments from people,'' Haun said.
Next, the volunteers will use equipment that will pull out loose stones on the dirt before seeding the field.
Haun said Brookfield Community Park, including the baseball field, is a valuable amenity for township residents.
"This park is a real asset to everyone in the community,'' he said.