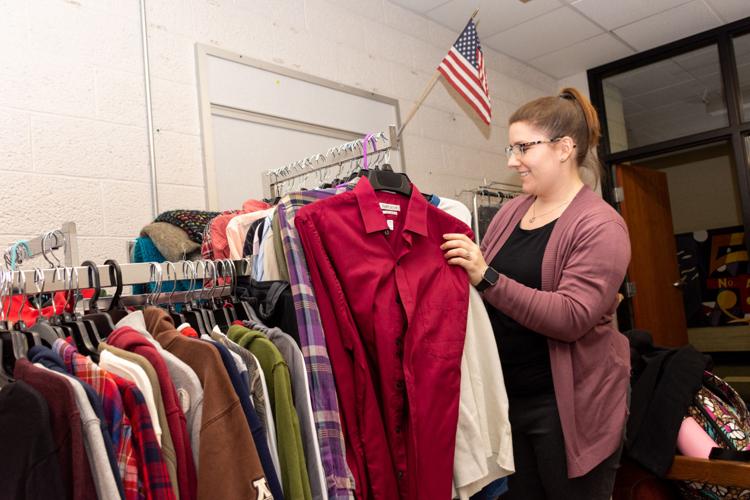 WEST MIDDLESEX — A former storage room at the West Middlesex Junior Senior High School is still being used for storage, but it no longer contains equipment such as extra desks.
Instead, it stores something important for the needy students at the high school — everything from racks of clothing and stacks of shoes to tables of food and snacks. The space, called the "Green Store," started this school year, and teacher Mackenzie Geramita, who oversees the store, said it has already seen considerable use.
"I would have been happy if we were able to help just one student, but so far I think we've helped about nine kids and six families over the past two months," Geramita said.
Geramita, a high school math teacher, said she recognized the need after noticing some students who could use clothing, such as certain students wearing the same clothes multiple days in a row.
The Green Store was approved by the West Middlesex school board at their meeting last August. The local Kiwanis also donated $1,000 toward getting the Green Store started, according to the August meeting agenda.
When it came to stocking the store, support in the form of donated items came from everyone including school administrators, teachers, local parents and grandparents, Geramita said.
"In the beginning my only real concern was that someone might try to take advantage of it, but so far no one has," Geramita said ."It's only been people who are really in need of something like a jacket or they need something to eat."
The high school's School Resource Officer Josh Natale, an officer with the Shenango Township Police Department, also recognized the need and reached out to the police department about organizing a community drive for donations. That culminated in a couple carloads of various items being gathered for the Green Store, said Rachelle Newton, a school board member and wife of township police Chief Jason Newton.
"The West Middlesex community loves to help each other out," Rachelle said. "We are all really lucky to call ourselves, Big Reds."
Geramita said some of the donated items included non-perishable items such as canned food, as well as hygiene products — all of which a student might need.
"One student was in the Green Store and needed Q-tips, and that's one of the things that you don't even normally think about," she said. "Other times I might have a student who'll ask 'I'm hungry, is it OK if I have a bag of chips?' and I'll tell them 'Go ahead.'"
Students can come to the room during their personalized learning period, where the students can simply hang out or get homework assistance if they choose. Other times, a student can access the Green Store on an as-needed basis throughout the day, with access to the store kept low-key for the students, Geramita said.
Some teachers who participate in "giving trees" for needy students, found many of the students merely wanted winter clothing for Christmas, so the Green Store was able to meet some of their clothing needs while the teachers could then get the students something else such as gift cards, Geramita said.
"Then the kids could get a gift or something for Christmas besides the clothes," Geramita said.
Like David L. Dye on Facebook or email him at ddye@sharonherald.com.