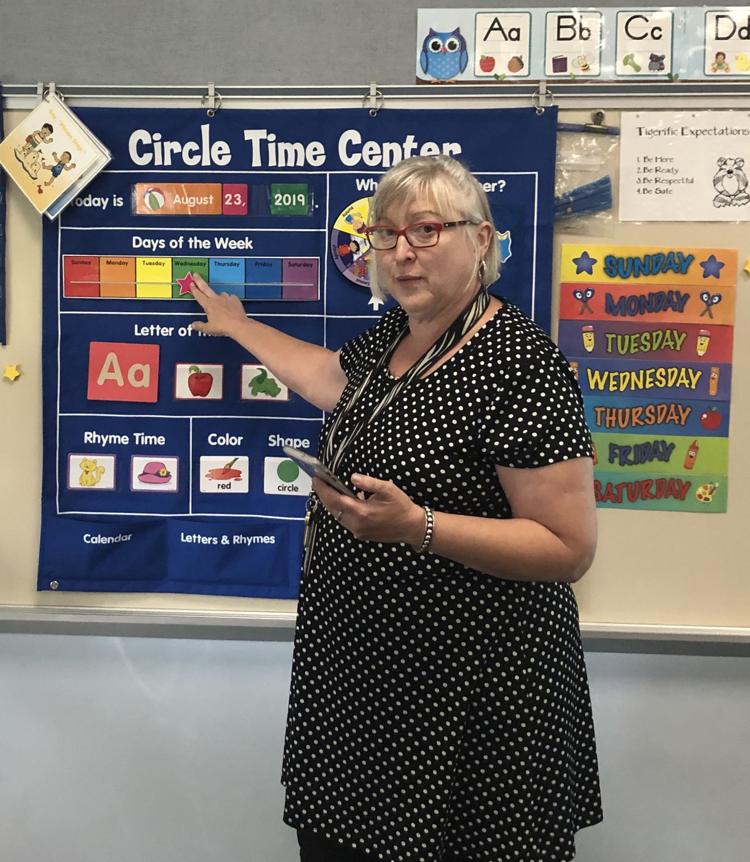 As a kindergarten teacher, Theresa Guilor imparts many lessons.
But she doesn't just teach the most important one — never give up. She has lived it.
Guilor, a teacher at C.M. Musser Elementary School in Sharon City School District, found her calling later in life.
"I was up against 85 other teachers, mostly young, college kids," Guilor said. "I had the highest score and at age 56 I became the kindergarten teacher here at Musser Elementary School."
That was three years ago. Before Musser, Guilor taught at Head Start for 22 years.
Not giving up has yielded rewards for Guilor and her students. In 2017, she won the district's Educator of the Year award. In 2018, she won the Class Act Award from local radio and television stations. Next week, she will receive an award from the United Way of Mercer County, as the lead teacher of Success by Six because of her passion and commitment to the program.
There's a reason for the awards. Guilor tries to make kindergarten a welcoming place.
For kindergartners who may be scared to start school, Guilor's classroom actively dispels their fears.
Guilor's "Success by Six" summer class at Musser Elementary ended last week. The "Success by Six" program, funded by the United Way, is intended to create a bridge between home and school for children entering kindergarten.
"I call it the kindergarten tickle," Guilor said. "We spent five weeks learning academics, learning the schedule for the future kindergarten, learning how to eat in the cafeteria, how to drink out of the rainbow fountain and use the restroom."
They spent a lot of time on the move.
"If they're busy and they're moving ... we need to keep them moving," she said. "We need to celebrate the movement and they'll settle down."
They celebrated movement by being airplanes in the hallway on the way to the restroom. The students also learned to compliment their peers, brush their teeth and take care of themselves. 
The kindergartners-to-be grew leaps and bounds in front of Guilor's eyes over the five weeks of the program. And Guilor helped the growth by stocking her classroom with supplies she bought herself.
"We worked with air-drying clay and we made what I call the 'Love Mural'," Guilor said. "I cut it into pieces and framed it and everyone took a piece of it home with them."
Guilor said her students this summer were amazing. They worked on STEAM — science, technology, engineering, art and mathematics — projects over the five-week period.
"We did science every day," Guilor said. "We made helicopters, other types of aircraft using rings, straws and paper clips. We did these colored bottles together. They were having such a good time."
And Guilor said her favorite thing about teaching is watching her young students grow.
"Growing them as learners and watching them have those successes is my favorite part of it," Guilor said. "And then, building relationships. Not only did I build relationships with these little pumpkins, but I grew relationships with their families."
Sharon City School District will hold a "meet and greet" session Friday, Aug. 23, for kindergarten students and their parents. Monday, Aug. 26, is the district's first day of school.
Follow Melissa Klaric on Twitter and Facebook @HeraldKlaric, email: mklaric@sharonherald.com