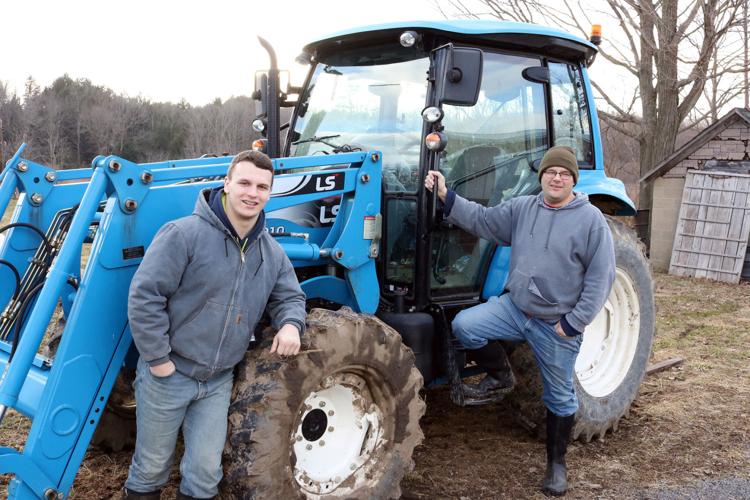 COCHRANTON — Jacob McMaster does his best thinking when he's shoveling the pigpen on the family farm.
He thinks about his footwork and his leg drops. He thinks about staying healthy. He thinks about all the ways he can hold onto is unblemished senior-season wrestling record.
The 220-pound grappler also thinks about his opponents, and about how the only wrestler he's lost to in the past two seasons will be waiting for him in Hershey at the state gold-medal round.
It's as his father, John, says — "You do your best thinkin' when the smell's a stinkin.'"
•
Jacob didn't want to be a wrestler — at least not at first. He remembers bringing the wrestling signup sheet home from kindergarten and showing it to his father.
"I don't know why I did that," he joked. "I should have just thrown it in the trash."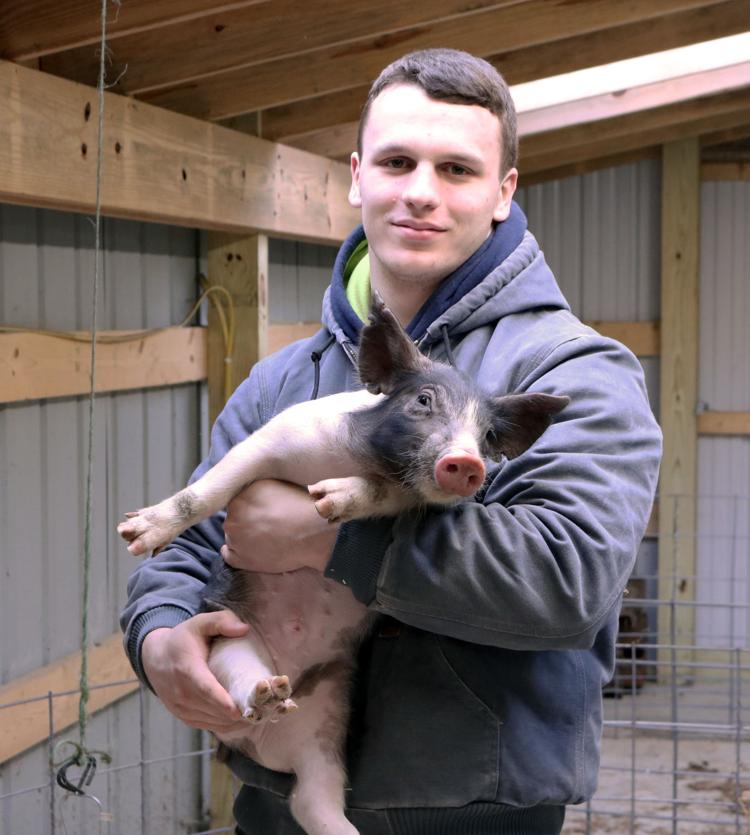 John was his son's coach from the time he was 5 until he reached junior high. Despite Jacob's protests, the father-turned-coach said he essentially had to force his son to put in the work for the first several years.
"I just wasn't going to hear it," John said. "Don't ask me why, I just knew he had a shot to be pretty good."
"But what if I get pinned!" his father recalled him saying.
"Don't worry about it," John responded. "Everyone gets pinned."
•
John's parents bought the family farm in 1972. Between Jacob, his dad and his uncle, the McMaster men now take care of all 140 acres.
John moved his family to Greenville three years ago so Jacob could wrestle for the Trojans under head coach John Reynolds. But John and Jacob still make the regular 14-mile trip back to Cochranton to take care of the 16 pigs and 30 cows in need of daily attention.
Jacob wore a pair of ripped jeans and a hoodie as he stood in a pen with a handful of the farm's 12 new piglets. Some of the babies gathered under a heat lamp, while the others took turns trying to nibble at his boots.
"They're the most fun at this age," he said. "Eventually they'll run up to you and let you scratch their heads. You treat them almost as you would a dog."
Kindergarten was also the same year Jacob started in the 4-H youth agricultural program. Both wrestling and 4-H came at his father's behest, but unlike wrestling, Jacob took to 4-H right away.
He raised a champion hog named Renegade when he was 11 years old. When he was 14, his hog Bubba Jenkins — named for the Arizona State national wrestling champion — took champion reserve at the Crawford State Fair.
Jacob spent countless hours prepping his winning hogs for competition. He groomed them, walked them daily and made sure they were brought up to market weight. But similar to an elite athlete, Jacob said a pig's genetic features play a major role in raising a champion.
John leaned back in the seat of a nearby lawnmower and laughed. "I'm not sure where all them genes came from," he said of Jacob.
•
Jacob started to get his first real taste of wrestling victory when he was 8. By the seventh grade, Jacob started taking his training seriously, and his father no longer had to coerce him onto the mat.
He gained 40 pounds his eighth-grade year. By that time, John had already passed the coaching duties off to the staff at Cochranton Junior-Senior High School.
"It was hard to hand him off to someone else," John said. "It was hard to give up that control."
But Jacob could hear his father from the stands at every match, "Move your feet! He's stalling you. He's tying you up!"
The rest of John's coaching was relegated to the front seat of the car.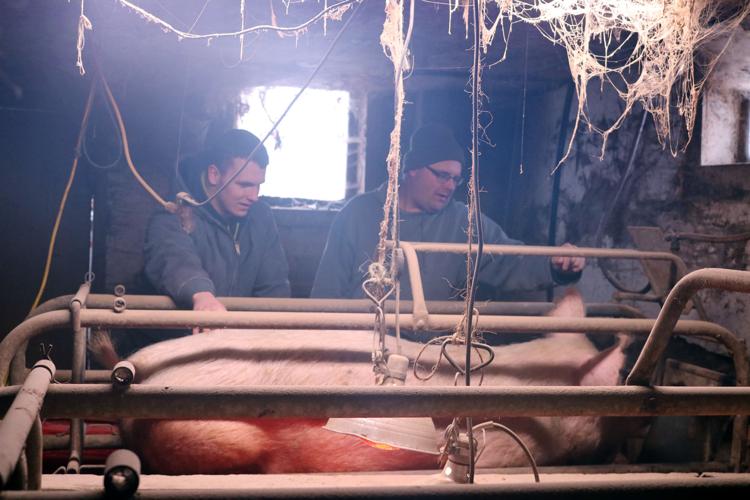 "He didn't ask questions when he was 5," John said. "Now if I want to coach him up I've got to get him in the front seat. He's a captive audience when the seat belt is on and he can't jump out."
Jacob's career suffered a major setback when he had double wrist surgery to repair some ligament damage, forcing him to miss his entire ninth-grade season at Erie's Cathedral Prep.
"It would have been easy to scrap everything," John said. "And say, 'I tried, but it just hurts too much.'"
Jacob spent his freshman year rehabbing, first with band exercises, then with weights. By his sophomore wrestling season — his first at Greenville — he had made a full recovery.
The Greenville wrestling coaches knew he was a talented wrestler when he showed up at the first day of practice. But Jacob said they never predicted he would be a state champ.
"I knew," Jacob said. "But they didn't."
•
Jacob said there aren't a lot of other farm kids at Greenville High School, and his teachers were confused when he missed the first day of sophomore year to show pigs at the Crawford County Fair.
"The teachers didn't think I was serious," he said. "A lot of the kids at school don't really know exactly what I'm doing out here."
But John wanted his son to develop a strong work ethic, and he credits 4-H for planting that seed.
"I wanted him in 4-H," John said. "This country is so many generations removed from true agriculture. A lot of kids now don't even know how to plant a garden."
On summer days, Jacob woke up and walked his pig while the weather was still cool, to help prepare it for competition. Then he headed to the gym to lift weights. A list of farm chores waited for him after his workout, and when the work was done, the pig got another walk as the sun began to fall.
Whether it's farm work or wrestling work, he's very dedicated," John said. "He's worked hard in both."
When Jacob was 16, before he got his driver's license, he took the keys to John's pickup truck one day while he was home alone and drove to the gym for a workout. He parked truck a couple blocks away from the building so no one would see him get out of the driver's seat and head inside.
John can laugh about it now. "That's just how dedicated he was," John said.
John might have called Jacob on his cellphone and demanded his son come home immediately when he noticed the truck was gone. But cellphones are a distraction, and Jacob never bothered to get one.
"I don't want to be at the gym and have my phone go off," Jacob said. "How am I supposed to get any lifting done?"
He shrugged at the thought of being the only Greenville High student without one. "I guess I probably am," he said.
•
Jacob finished with a 24-6 win-loss record his sophomore season, with an eighth place at the state championship. His work ethic and mat skills were starting to turn heads.
"He was starting to hear, 'You're gonna be a state champ,'" John said. "I hated hearing that. I thought it would derail him."
Jacob lived up to the hype his junior year, winning all 42 of his matches before meeting Derry Area's Dominic DeLuca in the state semifinals.
"I knew he was going to be tough," Jacob said. "But I wasn't expecting to get beat."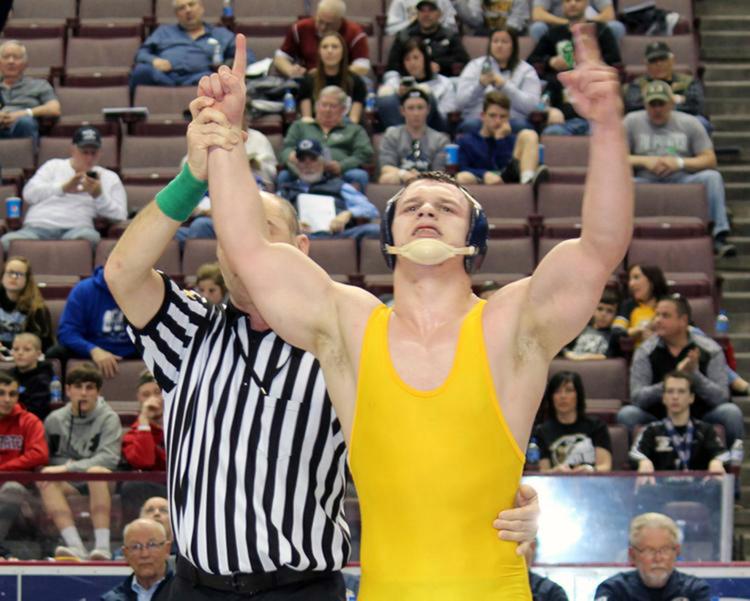 Jacob used the loss as motivation and constantly reminded himself of his spoilt undefeated season. He added new takedowns to his arsenal in the offseason and watched more film than ever before.
"I was shocked at first," Jacob said of the loss. "Then disappointment set in shortly after. But I knew what I needed to do, and I couldn't wait until the next year."
Jacob steamrolled his way through 46 straight matches his senior year. As expected, DeLuca, and a chance for redemption, waited for him in the gold medal round.
"(DeLuca) seemed arrogant coming off the mat (in his semifinal match)," John said. "He saw that Jacob won his match and (DeLuca) thought he had the whole thing won."
Jacob defeated his rival in overtime, and used a leg drop he learned over the summer to seal the match. He also hit his head coach with a planned, celebratory leg drop when he came out to congratulate his star grappler.
After the referee raised Jacob's hand in the center of the mat and declared him state champion, Jacob ran into the stands to hug his father.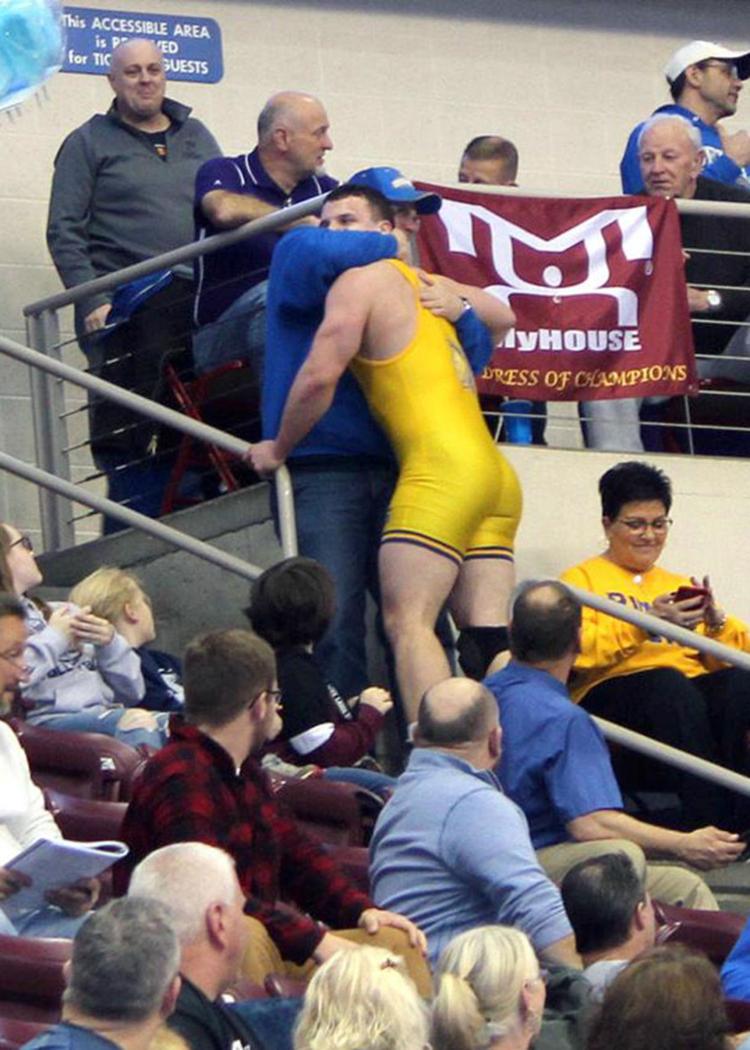 "(That moment) was everything I had worked for," Jacob said.
•
Now that his high school wrestling career is over, Jacob said he plans to enjoy his first summer without a surgery since ninth grade.
Keeping up with the farm has been hard on his father, and John said without meets or practices every night, he'll be glad to have the extra hands.
"It hasn't been easy, but I wouldn't have traded it for anything," John said. "This will be the last hard year unless Jacob ends up at college."
Jacob has offers to wrestle at Bloomsburg and Edinboro universities. He's also been in contact with Oklahoma since his state championship win, and said he plans to take a visit.
He'll continue to work out but isn't sure if he attend or wrestle in college.
Jacob isn't sure what the future holds, in fact. Maybe it will come to him while he's shoveling the pigpen.