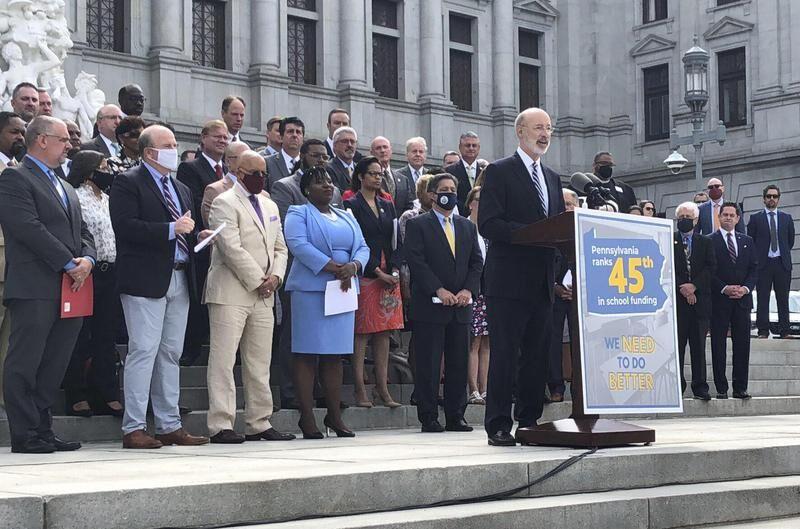 HARRISBURG — Gov. Tom Wolf said Tuesday that the state is in a position to begin fairly funding all school districts without raising taxes to do it.
Department of Revenue estimates show that the state's 2020-21 tax revenue through May is about $3 billion ahead of what officials had projected.
A legislative commission developed the fair funding formula for determining how much each school district gets from the state in 2016. But to avoid cutting funding for any school district, the state has been using the funding formula only for funds added each year while districts have continued to receive their previous funding.
As a result, Last year, only 11 percent, or $700 million, of state funding ran through the fair funding formula. The remaining 89 percent, or $5.5 billion, is still distributed based on student enrollment in 1992, without considering shifts in student counts or actual costs school districts face today. Urban and rural school districts with growing student enrollment must fill the funding gap with frequent property tax increases, adding to the burden of homeowners and businesses.
Wolf has called for running all funding through the formula while adding $1.15 billion to make sure that no district loses funding due to the change.
Wolf's proposal drives all the funding through the formula but adds dollars to ensure that no district loses revenue because of the change. If the state were to simply shift direction and deploy the funding formula without adding that financial buffer, about 150 school districts that would see their funding increase and 350 that would see no change or face a reduction in state funding.
"This is an unprecedented moment," said state Sen. Vince Hughes, D-Philadelphia, the Democratic chair of the Senate appropriations committee.
State Rep. Stan Saylor, R-York County, Republican chair of the appropriations committee, said that while the state revenue is running ahead of projection, it's largely due to spending tied to stimulus funding.
"We can spend all the money this year, if we wanted to but then next year you end up with a deficit," he said.
Saylor said the budget will likely include a boost in education spending but it won't be as ambitious as the plan called for by Wolf and the Democrats.
"There's nothing finalized. We'll continue our discussions with the governor and everyone else and see what we can do for education," Saylor said. "What that is, at this point, I'm not sure," he said.
Wolf said that based on the state's current revenue, he's no longer asking the General Assembly to raise taxes this year to pay for the school funding increase.
His budget had included a plan to increase the state's personal income tax from 3.07 percent to 4.49 percent with exemptions that would decrease taxes for lower-income taxpayers. Wolf had projected that by increasing the tax on higher-wage taxpayers, the proposal would generate the funding necessary to cover the cost of fully using the fair funding formula.
Wolf said he doesn't need the General Assembly to approve that plan to generate the school funding. "I don't think it's necessary at this point," he said.
In addition to the state revenue being ahead of projection, the state also has $7 billion in American Rescue Plan funds to spend but state Rep. Matt Bradford, D-Montgomery County, said that lawmakers don't think the state needs to tap into the rescue plan funds to come up with the funding for schools.
"This doesn't require one dollar of federal money," Bradford said.
This story has been updated to correct that the revenue surplus if $3 billion, not million.