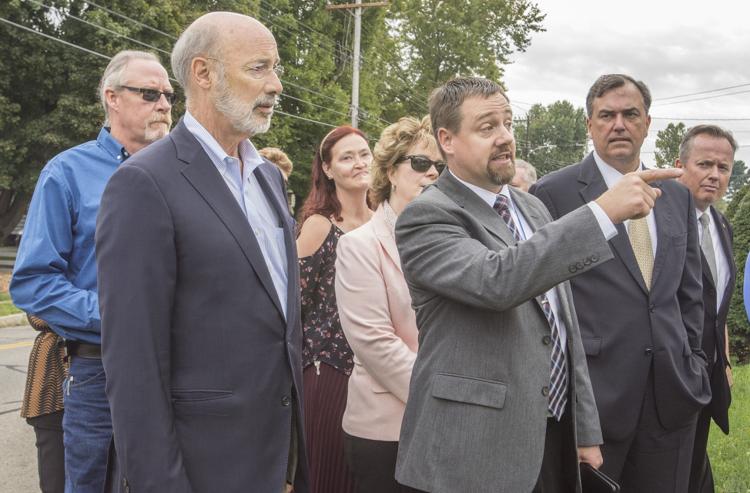 GREENVILLE — Pennsylvania Gov. Tom Wolf said he is "tired of shrugging shoulders" when it comes to helping communities like Greenville, he said Thursday during a morning walking tour of the borough's west side.
Wolf was in Greenville to promote his Restore PA initiative as well as survey extensive damage in the borough caused by a June 5 storm, which caused severe flooding. The storm impacted about a dozen streets and alleys, and washed out Loutzenhiser Way. 
"The common thread here is financial resources," Wolf said. "I think we ought to be in a position to help communities like Greenville. We need this kind of money and we need it fast."
Wolf's stop in Greenville was part of a statewide campaign to promote his Restore PA proposal, which calls for borrowing $4 billion through a bond issue, which the state will repay with revenues from a severance tax on shale natural gas extraction. The governor said the tax would generate an estimated $300 million a year.
The governor plans to use the bond revenues to address a wide range of problems, including expansion of rural broadband internet service, green infrastructure, highway and bridge projects, and pollution remediation.
Thursday marked Wolf's second stop this year in Mercer County. He visited Sharon in June, again to talk about Restore PA relating to the city's efforts to eliminate blight and dilapidated properties.
During a walking tour of the borough, Greenville Borough Manager Jasson Urey showed Wolf where the flooding had affected residents. He pointed to an area on North High Street where a flood-damaged house had to be demolished.
"We had to do a water rescue and get tenants out," said Urey.
Since the June storm, Greenville, classified as an economically distressed community under Pennsylvania's Act 47 law, has struggled financially to help residents affected by flooding and repair streets. 
Repairing the flood damage to roads, including Loutzenhiser Way, would cost about 10 percent of the borough's operating budget, Urey said. 
Wolf said the state needs to create a disaster fund and improve flood mitigation programs. Restore PA would create such a plan to help people who suffer losses not compensated by the Federal Emergency Management Agency or other programs, according to J.J. Abbott, Governor Wolf's press secretary. 
"Municipalities across the commonwealth have endured devastating destruction and high costs due to flooding. Unfortunately, many of these municipalities are being turned away for help from the federal government and the state does not have a funding mechanism to assist," said Wolf. "Just saying, 'I'm sorry this happened to you' isn't good enough. We need funding for flood prevention that will protect homes and businesses and flood-prone areas across the state. We need Restore Pennsylvania." 
Pennsylvania is the only state in the nation's shale gas region without a severance tax. Instead, it collects an impact fee, which generates about $190 million a year for state programs, including road projects.
The hallmark of Wolf's plan is the introduction of a severance tax on natural gas extraction, including shale gas, in the state. The governor expects the tax would generate $300 million a year, on top of the impact fee, he said. 
Mercer County Commissioners disburse the impact fee to help with projects around the county, including a renovation and repair project of Graul Amphitheater at Riverside Park in Greenville.  
"If we want Pennsylvania to be a great place to live and work, we need to make investments in our communities," said Wolf. "That's why I'm proposing Restore Pennsylvania because it will help communities of all sizes across the state tackle major, much-needed infrastructure projects." 
GALLERY: Wolf surveys Greenville flood damage
Like Heidi Warren on Facebook or email her at hwarren@sharonherald.com.