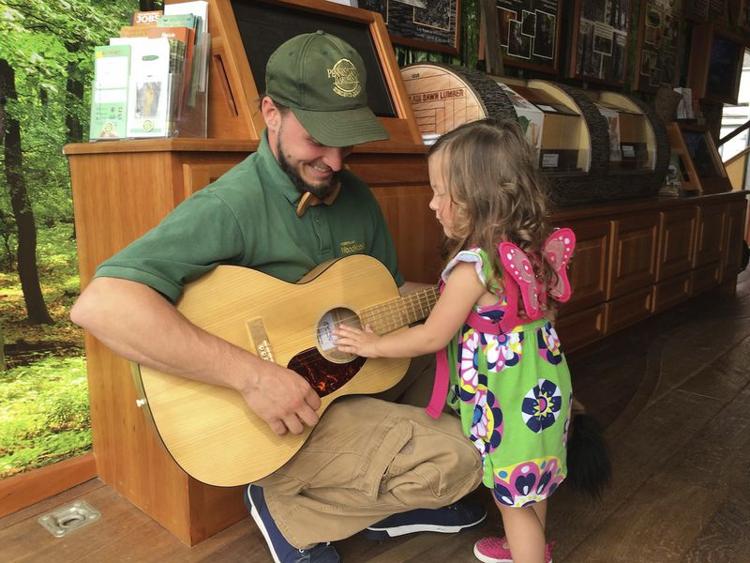 COOLSPRING TOWNSHIP – Matthew Kenny hopes to return to the Mercer County area again – knock on wood.
The Pennsylvania Department of Agriculture employee is something of a Johnny Appleseed. He plants seeds of knowledge by educating visitors on the value of Pennsylvania's forests and its lumber industry.
Kenny travels Pennsylvania highways from spring to fall in the Ag Department's WoodMobile. Although the 34-foot trailer isn't made of wood, almost everything inside it is – including the interior, a bicycle frame and a guitar. 
On Sunday, Kenny and the traveling exhibit were parked at Munnell Run Farm Day. Other attractions for visitors to the farm in Coolspring Township were traditional wagon rides, displays of handmade quilts, demonstrations by Civil War re-enactors and stiff competition in cornhole contests.
But the WoodMobile stood tall.
Strumming his guitar as visitors stopped by, Kenny told them that wood in the guitar came from Pennsylvania trees felled by Hurricane Sandy in 2012. "The trees were given a second life" in the WoodMobile, he said.
Kenny educated visitors about native Pennsylvania trees including white ash, white oak and red oak.
"You'll see a lot of white northern spruce here, but it isn't native – it was introduced by man,'' Kenny said.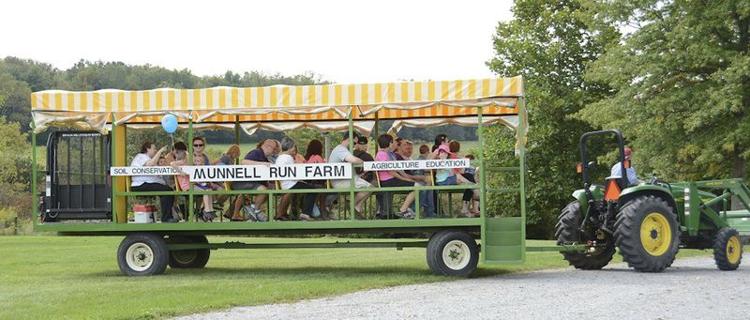 In addition to talking about trees, Kenny pointed out the variety and value of the state's lumber industry in home construction, furniture, floors and countless other products.
Further, he said, humans like to tinker with nature to produce a better product. 
And that's happening in the timber industry, with the introduction of "modified lumber,'' in which harvested wood is baked in a vacuum-sealed oven, he said.
The resulting product reduces shrinking and cracking and is designed mainly for use outdoors.
"After this process you have wood that can last through extreme temperatures and humidity,'' Kenny said. "There are only three manufacturers that can do this – and one of them is in Pennsylvania.''
Pennsylvania's forests have one enemy that Kenny would like to see eradicated before it completely wipes out an entire species. The emerald ash borer, a non-native beetle, has decimated ash trees in 31 states from the East Coast to the Southwest.
The invasive insect has munched its way through millions of trees. 
"There's a spray out there that works'' to control the pest, Kenny said. "It costs $300 for each treatment and it has to be done every four years.