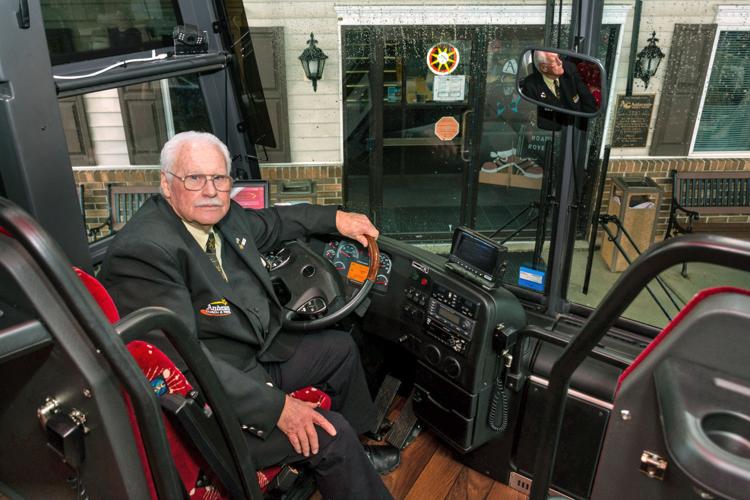 GREENVILLE — Seventy-two-year-old Tom "TJ" McGlynn of Hubbard, Ohio, said he's still having fun after transporting people all over the country for nearly 36 years as a motorcoach operator for Anderson Coach and Travel.
Now he's received some national recognition for his work: He was named the 2020 American Bus Association Motorcoach Driver of the Year.
Sponsored by Motor Coach Industries, the award recognizes an individual who has "gone above and beyond the performance of his or her duties as an over road motorcoach driver, professionally executing safe motorcoach operation, while providing the traveling public with the safest form of passenger transportation in the U.S," according to the American Bus Association.
Doug Anderson, Anderson Coach and Travel president, nominated McGlynn for the award based on his "professionalism, dedication and extensive skills and knowledge of the industry," said Courtney Anderson Saylor, the company's marketing and media coordinator. 
The award is based on driving record, previous award recognition, community involvement like volunteer work and industry-related activities.
McGlynn was hired back in 1984 by Doug Anderson's father, the late O.D. Anderson, co-founder of the company.
Throughout the years, McGlynn has earned every award at Anderson, including the Alaskan Highway Award twice, a prestigious honor given to drivers who excel under "extenuating circumstances," Anderson said. 
A previous resident of Conneautville, McGlynn also serves as a volunteer fireman with Summit Township in Harmonsburg, Crawford County.    
"Of the 70 applicants, Tom was the clear, outstanding winner," Anderson said. 
In 36 years, McGlynn has logged more than two million miles with no moving violations, he added. 
"It's quite phenomenal," Anderson said. "Tom has a tremendous amount of mechanical skills. He also is exemplary with customer service."
One of the highlights of McGlynn's job has been getting to meet people from all over, he said. 
"This is a people business," McGlynn said. "There's no doubt about it."
Anderson said McGlynn makes friends every place he goes. 
"He's a safe driver, a tremendous mentor, one of the most-requested drivers," Anderson said. "Tom gets to pick and choose who he's going to serve." 
In the last two years alone, McGlynn has received more than 300 requests from customers to be their driver, Saylor said.  
Until two years ago, McGlynn worked full-time as a motorcoach operator, driving many extended tours including Anderson's 30-day Alaska tour. He now works part-time focusing primarily on two- and three-day tours.
In addition, McGlynn is a leader with Anderson Coach and Travel's driver training programs where new drivers are paired with seasoned ones like McGlynn, Anderson said. 
"We probably have the most difficult training course," McGlynn said. "It's a big deal."
Saylor said Anderson Coach and Travel's training goes beyond what's required.
"A lot of places want you to have your CDL," she said, referring to a commercial driver's license. 
But Anderson said the company also likes to hire for personalities.
Anderson cites the company's mantra as "going beautiful places with smiling faces."
He credits McGlynn for building a lot of repeat business for Anderson Coach and Travel.
For his part, McGlynn, credits his employer for his success. 
"The equipment we drive, the team, the folks in the background are just as important," McGlynn said. "We travel with some good people." 
McGlynn has no plans to retire anytime soon. He said as long as his health holds out, he'll keep working.
"When I quit having fun, that's when I'll retire," he said. 
Like Heidi Warren on Facebook or email her at hwarren@sharonherald.com.