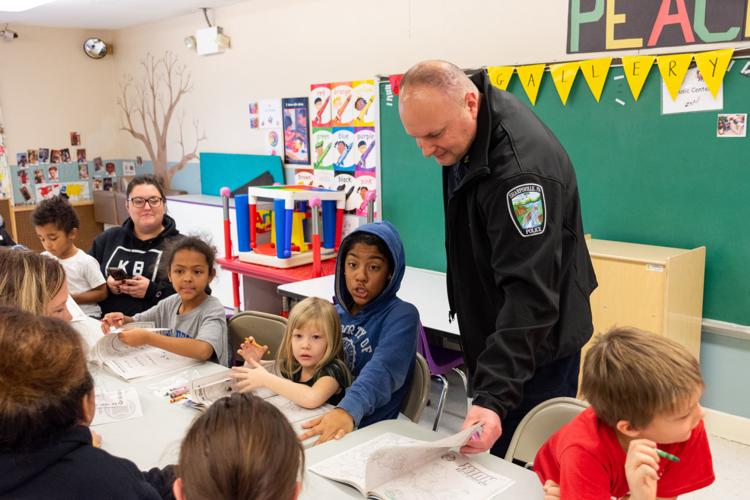 SHARPSVILLE — Before families gathered for Thanksgiving dinner, a group of Sharpsville Gardens residents got together for some pizza and to meet some of Sharpsville's first responders.
Featuring representatives from the Sharpsville Police Department and the Sharpsville Volunteer Fire Department, the event drew about 20 parents and children who got to both interact with the first responders and get to see both a police cruiser and a firetruck up close — something that Sharpsville Gardens resident Aryauna Harvey, 8, said she really enjoyed.
"I liked the firetruck," Aryauna said. "It had big seats inside."
Aryauna's mother, Jennifer Harvey, brought all four of her children to the event Wednesday, including Aryauna, Jaliyah Harvey, 13, Karma Harvey, 11, and Kingston Norris, 4, after hearing about it through the preschool at Sharpsville Gardens that Kingston attends.
"My son loves cops and firefighters," Jennifer said.
Sonny Parker, founder of the Mighty Cubs, an organization that works with at-risk youth, said he and Sharpsville police Chief Christopher Hosa had wanted to organize such an event for a couple years, where children and residents could have a chance to meet some of their local police officers and firefighters in a positive setting.
"It helps show the kids that these people are here to protect and serve you," Parker said. "They might live here but they might not know anyone, so this helps fill that gap."
The event was held in the Mercer County Housing Authority's room for preschool room at Sharpsville Gardens. Marco's Pizza donated 20 pizzas for the event, though Parker said they were down to three pizzas after about a half hour.
"This can also be good for some folks who may not have a place to go for Thanksgiving, so they can come and be around others for the holiday," Parker said.
Also attending the event was Tiffini Singh, who brought her sons Armaan Singh, 6, and Arian Singh, 5. Singh said she heard about the event from her mother who lives at Sharpsville Gardens and thought her sons would enjoy getting to see the first responders and their equipment up close.
"It sounded great for the little kids, because they play that stuff all the time," She said, referring to her boys.
After getting some pizza and a closer look at the police and fire departments' vehicles, a drawing was held where several attendees were awarded bicycles. Hosa said they were among some of the bicycles that the police department had come into possession of over the years.
Based on how the event went this year, Parker said he and Hosa would plan on holding a similar event sometime next year, possibly outdoors or with different activities.
"It went really well, and the kids seemed like they really enjoyed it," Hosa said.
Stephanie Brenneman, of the housing authority, said she supported the event and would be open to co-hosting another.
"It'd be nice if we could have something like this at the same time next year," Brenneman said.