George Floyd's death rocked the world. Millions of people watched Minneapolis police officer Derek Chauvin kneel on Floyd's neck for more than nine minutes, as Floyd pleaded for his life.
Tens of thousands protested. The city agreed to a $27-million settlement for Floyd's family.
Last month, Chauvin was convicted of murder and manslaughter and faces up to 40 years in prison when he's sentenced next month.
But nearly 50 years earlier, another fatal encounter with police — the shooting of Cecil Robinson, 24, of New Castle — was practically ignored.
On Dec. 15, 1972, the Vietnam veteran and amateur boxing star was shot in the head by a Beaver Falls police officer, following a store robbery. Robinson, who was unarmed, didn't participate in the robbery and probably didn't know about it.
Robinson's death didn't spark mass demonstrations, criminal justice reforms, or a multi-million-dollar settlement.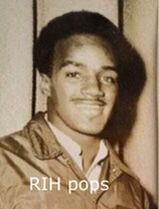 Three weeks after the shooting, Beaver County District Attorney Joseph Walko cleared the officer who shot Robinson.
The local newspaper, the New Castle News, barely mentioned — and never questioned — Robinson's death.
Times have changed but one thing hasn't: Black lives don't matter as much in the criminal justice system.
What's chilling — shocking, really — in the Floyd video is Chauvin's nonchalance, his hand casually in his pocket as Floyd, in anguished pleas, tells him he can't breathe. Chauvin looks as though he's stepping on a mosquito.
A half-century earlier, the Beaver Falls Police Department, by shrugging its shoulders at a fatal shooting, treated Robinson's death with a similar nonchalance.
So did The New Castle News.
When Beaver County cleared the officer who shot Robinson, it didn't interview Robinson's family. The newspaper's editor didn't call for a rigorous, independent investigation of the shooting; nor did New Castle reporters investigate the killing.
Robinson died without public furor or fanfare, the way most Black men, historically, have died at the hands of law enforcement, or its surrogates.
Nearly 50 years later, The New Castle News and Beaver Falls Police Department owe Cecil Robinson's family an apology.
As the newspaper's editor, I can't rewrite an old story. But I can apologize for its omissions and write the story that should have been written 50 years ago.
A fighter's dream
Like everyone in New Castle those days, or so it seemed, Cecil's father, Odell Robinson, worked in a steel mill, Rockwell International.
Cecil was one of 14 kids, a group of siblings that included Stacy Robinson, now 58, the current football coach and athletic director for Union High School.
Robinson was only 9 when his older brother was shot, but he remembers accompanying him to the West Federal Street YMCA gym in Youngstown, marveling at how his brother's lightning fists punished the speed bag. He remembers the showman who was his brother, the joyful smile.
"He was known as 'Sweet C,'" Robinson told me this week. "He was an idol to a lot of people in town — kids, especially, looked up to him."
Their older sister Selena Robinson Burnett, now 73 and a retired guidance counselor, said her smart and charismatic brother liked challenges. "He was proud to be a paratrooper in the 82nd Airborne Division."
Cecil Robinson was a schoolyard brawler long before he dreamt of Olympic gold. He didn't mind getting whipped by bigger kids. He loved to fight.
Robinson enlisted in the Army in 1967 and served in Vietnam, barely missing the trials for the 1968 Olympics. He continued to box in the Army, becoming the All Army-Navy-Marines champion as a light welterweight.
After coming home, Robinson landed a job as a lineman for Penn Power but continued his amateur boxing career, training with the likes of Homer Gray and Ernie Shavers, a two-time world heavyweight championship challenger.
In the summer of 1970, Robinson had compiled an amateur record of 87 wins and eight losses, including 43 knockouts.
Robinson beat Olympic silver-medalist Al Robinson. He twice beat Pittsburghs' Rudy Bolds, the former U.S. Amateur Athletic Union champion.
Robinson was ranked No. 1 in the 139-pound AAU class. He, again, eyed Olympic gold, but a good-paying job and family responsibilities — he and his wife had two small children — kept him home. Still, he continued to box locally and, in late 1972, was planning to go pro.
Never too late to apologize
What happened the night Robinson died is not entirely certain. No cell phones recorded the police stop, but his older sister got some of the story from the men who were with him.
On Dec. 15, 1972, Robinson and three friends drove to a party in Beaver Falls. The four had been tight since first-grade. Reginald Tipper, 22, and Leonard Payne, 23, were in the front seat; Robinson and Sanford Jackson were in back.
At about 9 p.m., Tipper and Payne went into the store, they said, to buy cigarettes. Instead, the two held up the store, without telling Robinson and Jackson, who remained in the back seat. Robinson was said to be sleeping.
Beaver Falls Police stopped their car a few minutes later and ordered the four men out. Confused and unarmed, Robinson stepped out of the car and asked what they had done.
A court document stated Robinson reached across his chest; the officer, it said, believed he was reaching for a weapon and shot Robinson in the head, killing him instantly.
Tipper and Payne were arrested and convicted of armed robbery. Charges against Jackson, the other man in the backseat, were dropped. It's almost certain charges would have been dropped against Robinson, too, had he lived.
After the shooting, Robinson's wife and two children, Cecil and Christel, moved to North Carolina.
Other family members have rarely spoken of how Robinson died. Still, watching the grief of Floyd's family, reminded them of their own. It revived memories of Cecil Robinson's mother, Eleen, crying endlessly, and his father, the tough-as-nails Odell Robinson, almost buckling in the steel plant, after learning his son died.
Christel Robinson McDuffie, now 50, a compliance officer for a credit counseling agency in North Carolina, doesn't remember her father, but he lives on in her through letters, photos, and the memories of others.
Like other Black parents, she worries about similar police encounters with her three sons, ages 24, 26, and 16. Stacy Robinson, too, has had numerous talks with his two sons about what to do if a police officer stops them.
"It doesn't seem to stop," McDuffie said.
On Friday, I asked her if an apology from the Beaver Falls Police Department would mean anything.
"It definitely would," she said. "It would mean the world to me, my brother, and my mother — just some acknowledgment that he mattered."
(Jeffrey Gerritt is the editor of The New Castle News and The (Sharon) Herald.)