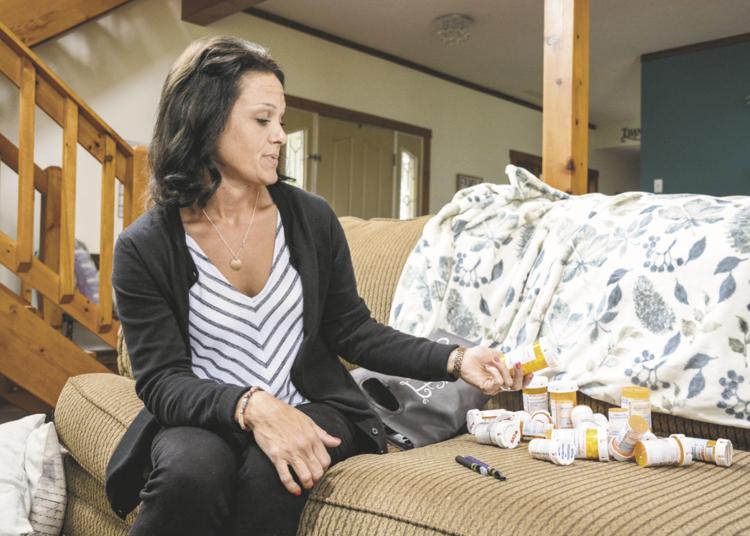 Micheale Hunt emptied a bag of old medication on her couch as she talked about dealing with anxiety, a brain injury and post-traumatic stress disorder after a horseback riding accident in 2018.
More than a dozen pill bottles – nine anti-depressants as well as muscle and nerve relaxers – rattled as they tumbled to the furniture inside her Turbotville, Pa., home. The 40-year-old woman keeps them as a reminder of where she doesn't want to be again now that she is using medical marijuana.
"This," she said, referring to the medical marijuana oil and vaporizer, "is a game-changer. I hope it becomes recreational. I hope the stigma becomes detached from it. It was so much better than I expected. I didn't expect to get what I got out of it."
Hunt, who moved to Northumberland County from Texas with her husband and three children in 2010.
She went horseback riding with a friend on a trail in New Columbia in January 2018. The horse threw her off and she was severely injured. She had a traumatic brain injury, her lungs collapsed, her hips were injured and she went undiagnosed with PTSD for months.
"It was hard, because the doctors would tell me there's physically nothing wrong with me," she said. "I went from being a Scout mom, working full time at a barn, being 200 percent – to not being able to get out of bed, and they were telling me I was physically OK. I would take whatever they told me to take."
The doctors switched her onto and off of different medications. She said she ended up becoming addicted.
Finally, in August 2018, she inquired about medical marijuana and received her card.
She says medical cannabis has allowed her to focus, to get out of bed and face the world, to exercise, to feel like herself – where the anti-depressants failed her. Other strains help when her hip starts aching.
"If I wake up in the morning, and I have anxiety, I can take it," she said. "If I don't need it, I don't use it."
Hunt says she spends $150 every week on her supplies and she travels to Williamsport, about 10 miles from her home, to pick up the medicine. She admits to feeling slightly guilty that she can afford it while others can't. She's watched people put their products back because it's too expensive.
Costs are out of pocket
Lance Kerstetter, 29, of Shamokin Dam, says he understands not being financially able to afford the medication that helps him. Since medical marijuana is not covered by insurance, patients must pay for everything out of pocket. Kerstetter hoped he'd be able to pick up some supplies from a Steelton pharmacy using birthday money at the end of August.
"I did not, unfortunately," Kerstetter said. "My car had an issue, so it was either pay to fix my car or pay to not be in pain – so I went with my car."
In August 2015, Kerstetter said he was traveling on Interstate 80 from New Jersey when he rolled his Toyota Corolla Sport six times. His left lung partially deflated, his right lung was torn. He ended up with nerve damage in his back and shoulders, and a pinched sciatic nerve that wouldn't allow him to stand up.
He was prescribed muscle relaxers, but he didn't like how "hazy" he felt on them, and he didn't want opioids to help with the discomfort.
"For years, I didn't have any kind of way to deal with the pain," he said. "I haven't been in the best way of getting jobs. I had a job for a year at a bar as a bouncer, but beyond that, it was hard to maintain with the pain level I was in. This treatment has helped tremendously."
The process to obtain the medical marijuana card was expensive. The doctor required a three-month program to see how it works. Kerstetter paid $150 for the initial visit, $250 for the check-up after the first three months and $25 for certification online. He was issued his card on Feb. 7, 2019.
With a treatment of medical marijuana and an extract of hemp that can be legally obtained – plus a workout program – Kerstetter said his life has changed.
"It has allowed me to take my life back," he said. "Over a year ago, I was not able to stand up straight. I was in a lot of pain."
'A great relief'
In January, Cristy Harding, 53, formerly of Turbotville, now of Hughesville, told the The Daily Item that medical marijuana was not helping her son.
Jason, 18, has suffered from a seizure disorder since age 3, and has autism. Both afflictions are among the conditions that can be treated with medical marijuana, but eight months ago, Harding could not find any varieties that were effective.
Subsequently, Harding said, a product approved by the U.S. Food and Drug Administration in June 2018 has helped Jason. Epidiolex (cannabidiol, or CBD) oral solution is the first FDA-approved drug that contains a purified substance derived from marijuana. CBD is a chemical component of the cannabis plant, more commonly known as marijuana. However, CBD does not cause intoxication or euphoria (the "high") that comes from tetrahydrocannabinol (THC). It is THC that is the primary psychoactive component of marijuana.
"It has helped him more (since March) than any of the medication he tried in the past 10 years," Harding said. "We started in March and it's a lot of relief. He still has seizures, but he was having them at 30 minutes at a time. Those have gone away. Now they're 10 to 15 seconds, but it's a great relief that something is working in some capacity."
Jason still has seizures every day, but it's a "drastic reduction" in length and severity, she said.
"I am not concerned with him stopping breathing anymore," she said. "Now, as soon as I notice he's seizing, he's already stopping. There's a big difference."
Since it is approved by the FDA, CBD is covered by insurance and the home nurse can administer it, she said.
Harding, an emergency department nurse and an avid advocate of medical marijuana, said she never stopped pushing for legalization even though it didn't originally help her son.
"This is why I never stopped advocating," she said. "It works for a lot of people. It's not just people hoping. I'm glad I stayed faithful toward advocating for it."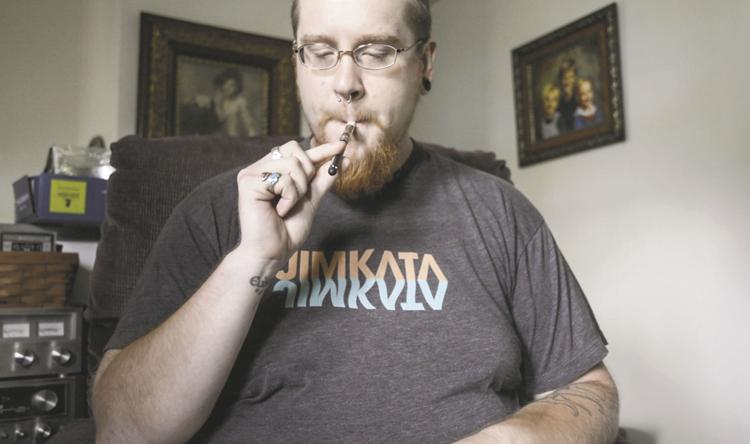 'Zombie mode' is gone
Leah Nugent, 30, of Jonestown, has also found relief through medical marijuana. For years, her anxiety and post-traumatic stress disorder were so intense that all she could do was curl up in bed, afraid to face the world.
Now, "when I start feeling anxiety coming on, I take a hit or two off of it and I'm good," she said.
Nugent compared her condition to some of the darkest days of battling PTSD and anxiety when she was prescribed a variety of medication and underwent numerous mental and physical exams.
"I was in zombie mode all the time," Nugent said. "When I first got real bad was back in 2012. I had postpartum depression. And I would cry all the time. I would be in the fetal position. I never wanted to leave my bed. If I'd go out in public, I would have debilitating panic attacks. I would be down at the hospital a couple of times during the week because I didn't know what was wrong with me. Was I having a heart attack? Was there something wrong with my brain?"
She explained that medical marijuana "gets my anxiety under control."
"I am completely against what doctors prescribe for anxiety, depression, all that stuff – because it has horrible side effects," Nugent said. "That's where Big Pharma comes in. That's how they make their money. They just keep pushing pills on you. It makes you worse than you need to be."
Relieving scoliosis
Shon Brantley, 26, of Richland, was born with scoliosis, a curvature of the spine, and then endured the repeated hard blows that come with playing football as a child and teenager.
He said medical marijuana relieves pain caused by his genetic condition and injured C5 vertebrae in his neck, while allowing him to walk and stand more comfortably.
"The one is from scoliosis, that's something that you're born with, so I've lived with that forever," Brantley said. "And then football. I played football my whole life. Sadly, I'm in pain from it years after playing. I loved the sport. I'd never bash the sport. But there are consequences to everything, or let's say side effects to everything.
"And some are more severe and some are not as severe that you can deal with. This is just something that's a little bit more painful, and I didn't want to go and do an opioid or anything like that."
From the couch to a cane
Wear and tear from a 40-year firefighting career made retirement agony for Tom Aloisio.
Aloisio, 65, who lives in the Johnstown suburb of Westmont, said he relied on a steady and oftentimes increasing regiment of Oxycontin and other opioids for back pain and arthritis — oftentimes his quality of life was awful — and he spent most of his days on his couch.
But all that changed shortly after he got a medical marijuana card in the summer of 2018.
Vaporized medical marijuana gave Aloisio his life back last July, he said.
While he still walks with a cane for support, he said he's more active than he was for years.
"I still wake up with pain every morning," Aloisio said. "But then I take my morning dose ... and within 15 minutes, I'm back on my feet again, going about my life. The only pain pill I take anymore is an occasional Tylenol."
Fibromyalgia and addiction
Derek Adam, 34, who lives outside Sunbury, said he has PTSD, depression and fibromyalgia, a disorder characterized by widespread musculoskeletal pain accompanied by fatigue, sleep, memory and mood issues.
After a car accident in 2011 near Herndon, Adam said he was prescribed Percocet and eventually realized he was addicted. He can cite the exact day he realized he needed help: June 12, 2012.
He received his medical marijuana card from Pennsylvania on July 9, 2018, and recently renewed it. He was also involved in the marijuana program in Colorado when he lived in that state.
"Medical marijuana has been a huge benefit for me to get through everyday stress relief and everyday joint pain," he said. "It's opened up doors for me to keep going."
Adam said he wouldn't be able to work if not for medical marijuana. As a chef, he works with his hands and stands all day, which inflames his joints.
He said he has fewer emotional outbreaks now. He also said marijuana users were always looked at as "outcasts" and judged, but he is happy that stigma is reversing.
Veteran: Peace is attainable
Jaime Hernandez, of New Castle, a Marine veteran who served in Afghanistan, has been a medical marijuana patient for 2 1/2 years, treating PTSD. He has gotten discounted appointments and card renewal due to his status as a veteran.
"This life of being at peace is attainable," Hernandez said about "getting the word out" to help his fellow veterans understand the benefits he's had using medical marijuana. "There's no more, 'What am I going to do today?' Now you (veterans) have an outlet, and it's a good one (medical marijuana)."
Many veterans have fixed incomes. Even though he would save money taking prescription pills, Hernandez said he prefers medical marijuana because it is a natural substance.
"I'm disabled 100 percent with PTSD," he said. "They've got to understand when you're paid once a month, so I have to go at the beginning of the month to get my (medicine). It's a little complicated with that."
Staff writers Maria Basileo, of The New Castle News, Dave Sutor, of The (Johnstown) Tribune-Democrat, Eric Poole, of The (Sharon) Herald, and David Hurst, of The (Johnstown) Tribune-Democrat, contributed to this report.