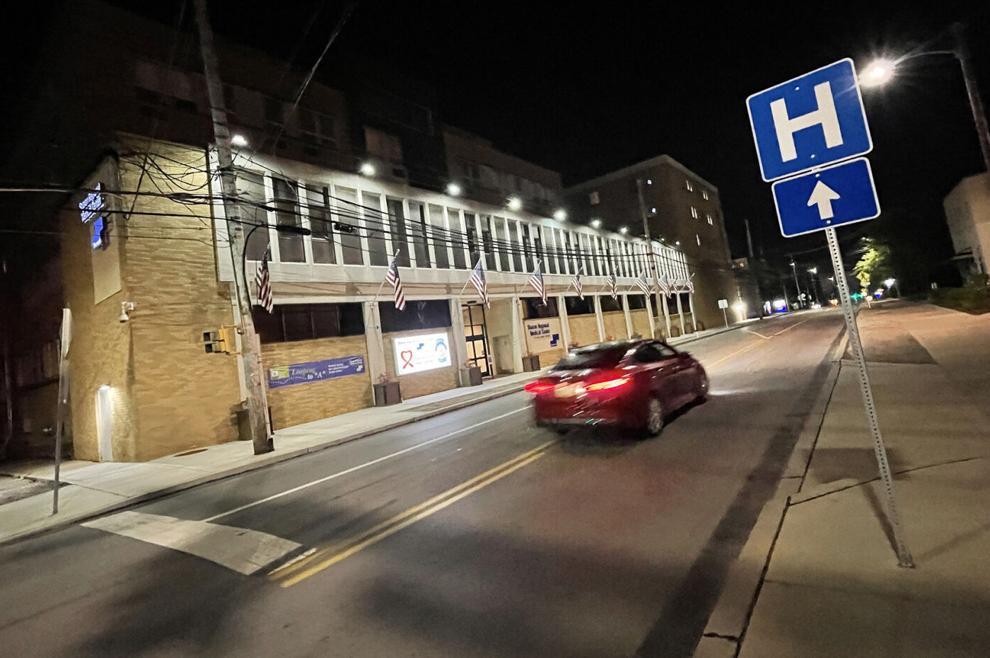 SHARON – A former Sharon Regional Medical Center heart surgeon says he was fired after complaining to administrators that Dr. Ann R. Connor, a fellow heart surgeon, made mistakes that "contributed to the death of several patients.''
The whistleblower lawsuit also alleges Sharon Regional knew the results of an independent investigation into Connor's work, but continued to allow her to perform surgeries for nearly two months in 2019, before terminating her.
Connor is not a defendant in the civil suit, which seeks more than $1 million for loss of wages and pain and suffering from Sharon Regional and its parent company.
Dr. Edward L. Woods, now a Virginia resident, filed the suit Friday in Mercer County Common Pleas Court. He worked at Sharon Regional from 2014 until his dismissal in 2019, court documents state.
Dr. Woods isn't related to Dr. David Wood of Hermitage.
Sharon Regional hired Connor in 2018, the suit said. After Connor signed a contract with Sharon Regional, an employee in the hospital's human resource department asked Woods to check Connor's references.
The request was made, the suit said, because the human resources department questioned whether Sharon Regional or its owner, Steward Health Care System, checked Connor's references.
Joseph Hugar, then-president of Sharon Regional, told Woods that Connor had been "vetted'' by Steward Health Care System, the suit alleges. The for-profit company bought Sharon Regional on May 1, 2017, and is listed among the defendants.
The suit notes Connor's medical license was suspended in Missouri on Sept. 12, 2018, and in Virginia on Nov. 16, 2018.
A search of state online records by The Herald, however, found Connor's Missouri license was suspended for failing to file or pay her state income taxes. Virginia suspended her license based on Missouri's action.
While working at Sharon Regional, Connor sought temporary part-time work at other health care providers, some of them out of the state, which Sharon Regional and Steward knew about, the suit said.
"…Dr. Connor asked Dr. Woods to lie to SRMC (Sharon Regional Medical System) management if they asked about her whereabouts,'' while working in another state, the suit alleges. Connor told Woods "she had deceived hospital President Hugar'' regarding the extent of her outside work.
Connor was forced at least once to take a late-night flight back to work in Sharon, the suit alleges, while also working in a California hospital.
When she arrived at SRMC for her shift, Dr. Connor was "tired, upset and distraught" due to travel delays and her work schedule, the suit said.
Eventually, Connor's relationship with Woods and other Sharon Regional medical staff worsened, the suit said.
Among other things, the suit alleges her "medical mistakes contributed to the death of several patients.''
The suit also alleges a cardio surgeon at SRMC told Woods that Conner's techniques "were the worst he had ever seen.''
Multiple nurses at SRMC told Woods that Connor's techniques and patient care and treatment were flawed and substandard, the suit states.
The suit also alleges a board-certified surgeon at SRMC told Woods he didn't think "Dr. Conner should be performing cardiac surgery.
While assisting Connor with six open-heart surgeries, Woods saw "substandard care'' by Connor, resulting in two deaths, patients needing multiple operations, and three cases of cardiac arrest requiring open-heart massage, the suit alleges.
At least two other doctors at Sharon Regional, Chief of Surgery Dr. John Ambrosino and Chief Medical Officer Dr. Robert Morgenstern, also believed Connor should not perform surgeries, the suit said.
Sharon Regional hired Duke University to review Connor's surgeries and surgical procedures. The final report, submitted to Sharon Regional March 11, 2019, concluded Sharon Regional had justification to fire Connor, the suit said.
Sharon Regional and Steward actually knew the results of the report in late January 2019, the suit said, but Connor continued to perform surgeries.
Morgenstern and Dr. Roger Mitty, a Steward doctor and then a vice president with the company, told Woods that Connor would be fired March 18, 2019, the suit said. But Connor was still allowed to work until then. She was fired March 18, "after a particularly horrifying and disastrous surgical procedure performed on March 14 became public,'' the suit said.
Calls to Sharon Regional were referred to a Steward media representative in Canfield, Ohio. A phone message and email to the representative wasn't immediately returned Friday afternoon. Two phone messages to Steward's Dallas headquarters weren't immediately returned, nor was an email the media department.
A message was left for a heart surgeon named Ann R. Connor at an Albuquerque healthcare provider Friday evening but wasn't immediately returned.
The suit, which alleges Woods became a victim of a hostile working environment by Sharon Regional's management, including Morgenstern, and was wrongfully fired in September 2019, for, among other things, repeated complaints about Connor.
He seeks more than $1 million in damages, resulting from lost wages, legal expenses, emotional distress, and the hospital's violation of the state's whistleblower law.
"Dr. Woods was singled out because he spoke out, and it cost him his career," Woods' attorney, Matt Casey, a partner of Ross Feller Casey in Philadelphia, stated.