Ice fishing isn't for everyone, but for many the call of the ice is irresistible.
The sport offers a number of advantages: It can be affordable, relatively easy, social and, of course, for anyone interested in fishing this time of year, the only game in town.
"Ice fishing is a great, inexpensive way to get outdoors in the winter and can produce both large numbers of fish and larger individual fish," said Andy Shiels, PFBC deputy director for Field Operations.
And while conditions aren't right yet, ice fishing season will soon be here in many parts of the state.The first thing an angler will need is a Pennsylvania fishing license.
Once the angler decides to head onto the ice, warm clothing, preferably windproof and waterproof, is also a necessity.
It's important to remember to check the ice before heading out onto the water. Drill a hole every so often and look for at least 3 inches of clear ice. Stay away from aerators, docks and branches, or any other structures breaking through the ice.
Once you get to a spot on the ice, protection from the wind is key. Some anglers prefer a shanty, which can either be homemade with scrap wood, a pair of old skis and a tarp, or it can be purchased at a higher cost. The basic tools are an auger for cutting a hole to fish, a small ice-fishing pole with light line, a seat and a slush scoop to keep the hole clear of ice chunks and slush.
And don't forget the proper jigs and/or bait.
For fishing for panfish, such as crappie, bluegill, sunfish and perch, most anglers prefer a small lead ice jig with a waxworm or maggot. Nightcrawlers and mealworms also work well. It's also a good idea to put a little flash on the jig to attract the fish. For larger fish, such as northern pike, walleye and muskie, try minnows and shiners, or sonar jigs.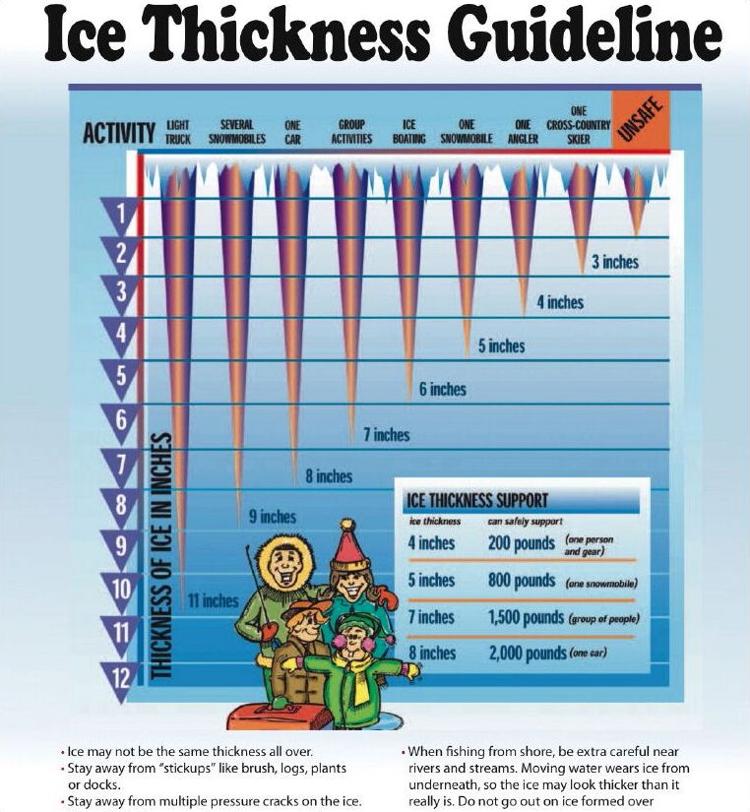 And with all that planning and preparation, fishing for several hours on a frozen surface can end up with nothing to show for it — at least in terms of fish. For many, just getting outdoors during the winter months is all that's needed.
"It can be an escape for anglers seeking peace and quiet, or it can turn into a real social event," Shiels said. "Often, friends and family will gather in groups to ice fish, tell stories and eat food in a tailgate-type setting."
Safety first
The PFBC urges anglers and anyone venturing out on to the ice to follow these safety steps:
· Always wear a lifejacket or float coat while on the ice. Avoid inflatable lifejackets, which do not perform well in freezing temperatures.
• When arriving at the water's edge, visually survey the ice. 
Look for open water areas and signs of recent changes in water levels. Ice sloping down from the bank can indicate a recent drop in water level, while wet areas on the ice can indicate a rise in water level.
• Listen for loud cracks or booms coming from the ice. This can be an indicator of deteriorating ice.
• Look for new ice, which is clear or has a blue tint. New ice is stronger than old ice, which can appear white or gray.
• Remember that ice thickness is not consistent across the surface of the lake or pond.
• Beware of ice around partially submerged objects such as trees, brush, embankments or structures. Ice will not form as quickly where water is shallow or where objects may absorb heat from sunlight.
• Anglers should use an ice staff to probe ahead as they walk. If the ice staff punches through, retreat to shore slowly.
• Always carry a pair of ice awls, which are handheld spikes. Ice awls can assist in performing a self-rescue, in which the spikes are driven into the ice to help someone pull themselves out of the water.
· Never walk on ice that has formed over moving water such as a river or stream.
· Never go out on ice alone.
· Always let someone know your plans and when you expect to return.
Hot spots
Canadohta Lake: Anglers can expect to catch largemouth bass, northern pike, muskie, walleye, crappie, bluegill and catfish during the winter months. Jigging with or without live bait in the stumpy areas around the perimeter near the swamp will produce panfish, while the larger fish can be caught with large shiners on tip-ups or by jigging with sonars in deeper water.
Conneaut Lake: Conneaut will generally have large conglomerations of ice shanties on the north and south ends of the lake as well as near the park swamp on the west side. These areas can be very productive for largemouth bass, perch, walleye, bluegill and crappie. Ice jigs with waxworms are generally the most productive, but fish can be tough to locate at times.
Pymatuning Lake: This is a large lake with plenty of ice-fishing possibilities. Walleye can be caught all around the edges where there is a rocky bottom. Many anglers like the spillway area and around Manning launch not too far to the south. Snodgrass is even farther south and can also provide some potential for walleyes. 
Panfish can be caught anywhere there is a weedbed using the same basic methods listed above. If one color isn't working, switch.
Woodcock Creek Lake: Walleye numbers are good here, and bass are also plentiful and in good size. Once again, fishing near the dam will produce good numbers of big fish, while the panfish tend to stick to the cover found along the outer edges of the lake and in the deeper areas offshore.
Lake Wilhelm: This lake is good for panfish and bass. Some of the better spots are around launch No. 3 or in the bay. Also try around stumps in gamelands near old launch No. 1.
Shenango River Lake: This 3,200-acre Army Corps of Engineers lake is under Big Bass Special Regulations and Lake Panfish Enhancement Special Regulations. Largemouth bass, smallmouth bass and panfish are popular fish.
Duman Lake: Owned by the Fish and Boat Commission, this 20-acre lake is under Trout Stocked Waters Regulations and Big Bass Special Regulations. Largemouth bass, panfish and stocked trout are popular.